Egypt government relaxes night-time curfew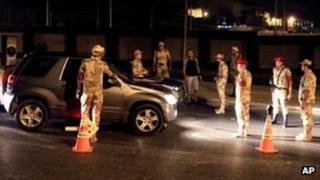 Egypt's interim government has shortened a night-time curfew imposed in the wake of recent violent unrest.
The curfew will now begin two hours later, at 21:00 local time - although on Fridays, when protests usually take place, it will still start at 19:00.
More than 1,000 people died after security forces cleared Cairo sit-ins by supporters of ousted President Mohammed Morsi earlier this month.
The army, which removed him on 3 July, has imposed a state of emergency.
The military-backed interim government has cracked down on the Muslim Brotherhood, which is demanding Mr Morsi's reinstatement.
Hundreds of people have been detained, including the Brotherhood's most senior leader Mohammed Badie, who was wanted over alleged incitement to violence and murder.
Correspondents say that in recent days Cairo has begun to regain a sense of normality, after the storming of the pro-Morsi camps on 14 August.
The easing of the curfew comes three days after former Egyptian President Hosni Mubarak was released from prison to be placed under house arrest.
Mr Mubarak, 85, faces charges of corruption and complicity in the killing of demonstrators during the protests that toppled him in 2011.