Suicide bomb attack at north Baghdad park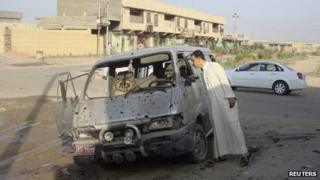 A suicide bomber has killed at least 25 people in the Iraqi capital, Baghdad, officials say.
Fifty others were wounded when the bomber detonated his explosives near people spending the evening at a park in the northern district of Qahira.
Earlier, at least six people were killed in other attacks in Baghdad, and in two towns to the north and south.
There has been a surge in violence across Iraq in recent months, with more than 1,000 people killed in July alone.
Friday's violence began at dawn when gunmen broke into the house of a Shia merchant in Dujail, about 80km (50 miles) north of Baghdad, killing him, his wife and elderly mother, officials said.
Later, at least three people died when bombs exploded near Sunni mosques in two districts of the capital, they added.
After nightfall, a man blew himself up in a crowd at a park in Qahira that is popular with families and has several cafes and restaurants.
At least 24 people were killed in attacks across Iraq on Thursday, including nine at a wedding party for a Shia family in Dujail.
Sectarian violence has surged in Iraq this year to its highest level since 2008. More than 4,000 people have been killed and 10,000 injured since January, according to the UN.
The unrest was sparked by an army raid on a Sunni Arab anti-government protest camp near Hawija in April. The protesters were calling for the resignation of Shia Prime Minister Nouri Maliki and denouncing the authorities for allegedly targeting the minority Sunni community.