Cairo voices on Mubarak release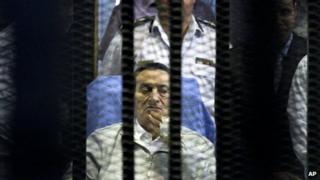 An Egyptian court has ordered the release on bail of former President Hosni Mubarak in a corruption case.
The decision comes amid turmoil over the ousting of his replacement, Islamist President Mohammed Morsi, by the Egyptian military in July.
The BBC's Leana Hosea asked people in Cairo for their views on Mr Mubarak's impending release.
Heba Sharif, 21, works in a book shop
Since the revolution and the second revolution to overthrow President Mohammed Morsi, Mubarak has gained a lot of sympathy from the people.
I guess we figured out that he wasn't that evil and some people think he had a good cause to do what he did to the Muslim Brotherhood and ban their activities.
So I'm not personally obsessed over whether Mubarak will be set free or imprisoned. I'm more concerned about what's happening in Egypt now.
I'm not saying Mubarak wasn't bad, he was. He had his political and economic faults.
Mubarak should be punished for this political corruption and for oppressing the Egyptian people.
But the problem is that the trial from the beginning was not right. The trial should have been for his political corruption, not because he took favours from Al Ahram newspaper.
It makes me angry that he could get off, but there is not enough evidence for cases he's being tried for to imprison him.
If he is let off, it doesn't mean that the revolution is a failure but there are some faults in the revolution because we didn't have a leader to create the right path.
Ahmed, 26, salesman
I don't care about his freedom, but I don't think it's right to put him in prison.
So I don't really care if he's out or not. I just want to leave this country.
I guess the fact that Mubarak could be freed is a sign that the revolution failed. I think the revolution only succeeded by about 20%, so it's a big failure.
The only successful thing the revolution gained is that we made the people hear our voice. We want to make the right way in Egypt, but nothing has changed.
I don't think the judiciary is biased. They can only work with the evidence they are presented with.
There was just not enough evidence against Mubarak.
Salah, 38, road sweeper
To be honest, he was better than what we have now, despite all his mistakes.
During his reign the country was better than now; better than Mohammed Morsi.
The current regime has no influence over the judiciary. On the contrary, the judiciary will improve. All we want is for the country's condition to improve.
Little has been achieved by the revolution, only a few things have got better. All the bad people have to be held accountable though.
I hope we don't stay in this same way and everything gets better soon.
Khalid Dawoud, 45, journalist and spokesman for the socialist democratic Dustour Party
I'm not surprised.
Since Mubarak was ousted in the 2011 revolution, most of the cases that were brought to court against him were weak and he's been repeatedly acquitted, together with top government ministers and police officers accused of killing at least 840 young Egyptians during the revolution.
I can see this will be an embarrassment for the current regime, that the former President is going to be released.
At the same time, many people suspect a return of the Mubarak era policies. I don't think he was tried on the right charges.
The people who took part in the revolution, we were making this complaint immediately after they referred Mubarak to court. We repeatedly demanded a system for transitional justice to try the crimes during his entire era.
He shouldn't have been tried according to regular criminal law, which was not perhaps prepared to try charges such as rigging elections or for generally being responsible for all the torture that happened during his rule.