Palestinian killed in Israeli raid in West Bank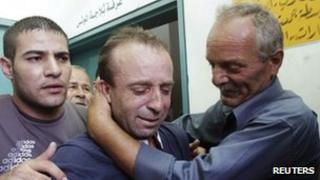 A Palestinian has been killed in a shootout with Israeli troops on a raid to arrest a militant in the northern West Bank, the Israeli military says.
The military said soldiers were attacked as they went to detain the suspect in the city of Jenin.
Two Palestinians and two soldiers were wounded in the confrontation, the military said.
Afterwards, locals held angry protests against Israel and the Palestinian Authority, Reuters news agency said.
Israel and the Palestinians resumed peace talks earlier this month after a three-year hiatus.
"During the [raid], shots were fired at the forces and improvised explosive devices and rocks were hurled at the security personnel, injuring two soldiers," a military spokeswoman told AFP news agency.
The military said troops returned fire, killing the Palestinian and wounding the others.
Doctors in Jenin named the dead man as 20-year-old Majed Lahlouh.
Army spokesman Lt Col Peter Lerner says the wanted man was taken into custody.
Israeli army radio said the man was believed to be an Islamic Jihad activist, Bassam Saadi.