World press urges end to violence in Egypt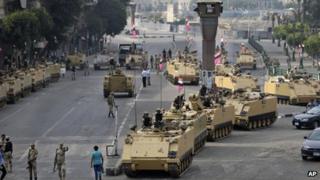 Papers around the world are calling for an end to the violence in Egypt, with many warning of a deterioration in security both in Egypt and the wider Middle East.
Commentators also analyse which side is in the stronger position, with some saying both sides are at fault.
MIDDLE EAST
EDITOR-IN-CHIEF NASIR SALAMAH IN EGYPT'S PRO-GOVT AL-AHRAM
It has become clear that in the next stage our battle with the outside world will be more difficult than our domestic crisis...
SYRIA'S GOVT-OWNED TISHRIN
We do not wish to see Egypt suffer from what was imposed on the Syrian people by the US with Saudi-Qatari-Turkish participation, and that of some Egyptian parties which have now revealed their collusion against the Egyptian people too
BATIR WARDAM IN JORDAN'S AL-DUSTUR
Let's be honest and say there are no saints versus devils in the conflict in Egypt… They - Islamists, liberals and leftists alike - all made a mistake by justifying violence against their opponents while denouncing it when it is against them… From now on, there is no Arab Spring to be talked about and it's best to forget about this big lie.
SAAD BOUAKBA IN ALGERIA'S EL-KHABAR
Today, the military cannot run Egypt. Equally, the [Muslim] Brothers cannot rule Egypt alone and they don't accept the participation of others. Egypt is therefore approaching a major phase of chaos which may render the horrors witnessed by Algeria in the 1990s insignificant.
ABD-AL-ALA HAMI-AL-DIN IN PAN-ARAB AL-QUDS AL-ARABI
What is required from the international community is to move away from condemnation and denunciation to immediate intervention in order to protect civilians' right to life, personal safety, physical integrity and to ensure their right to peaceful protests.
ARIEL BEN SOLOMON IN ISRAEL'S ENGLISH-LANGUAGE JERUSALEM POST
While the military has an advantage in terms of sheer firepower, the Brotherhood still has two important cards it can play: it has many loyal supporters who can wreak havoc inside Egypt as well as in various foreign states that it hopes can facilitate its return into the political life of the country.
DAN MARGALIT IN ISRAEL'S YISRAEL HAYOM
Is Barack Obama fit to conduct US foreign policy in the Middle East…? He has condemned the military regime in Egypt that tried in a last-minute effort to rescue its country from the fanatics of the Muslim Brotherhood.
US
JACKSON DIEHL IN THE WASHINGTON POST
[In foreign policy] Obama is a president of half-measures, of endless internal debates followed by split-the-difference presidential decisions that serve no one's strategy…instead of a decisive break with Egypt's out-of-control generals, a pointless [joint military] exercise is called off.
OPINION COLUMN IN THE WALL STREET JOURNAL
The US role amid the chaos should be to keep focused on American strategic interests which at this stage means trying to prevent a bloody civil war that compounds Middle East instability.
RUSSIA
EDITORIAL IN RUSSIAN BUSINESS DAILY VEDOMOSTI
The lesson of Egypt and Turkey is that if a security or law-enforcement body (the army, the police, the secret services) take sole responsibility for statehood, this does not guarantee stability… It is better for the guarantor of statehood to be an institution that includes several forces and parties - an institution with a built-in replacement system - such as a parliament.
ALEKSANDR SHUMILIN OF RUSSIAN ACADEMY OF SCIENCES IN PRO-GOVT DAILY IZVESTIYA
It won't be possible to come to an agreement and the military will now begin to quash the Islamists. Meanwhile, the Muslim Brotherhood and its allies will split into an irreconcilable camp of those who want to continue the struggle and moderates inclined to keep quiet.
GERMANY
RAINER HERMANN IN THE FRANKFURTER ALLGEMEINE ZEITUNG
In Egypt, all political forces have now missed an opportunity. President Morsi's one-year period in office has shown that the Muslim Brothers only recognised the principle of might is right - until the military simply deposed the elected president using the principle that might is right and turned the Muslim Brothers into martyrs.
SONJA ZEKRI IN THE SUEDDEUTSCHE ZEITUNG
The country that prides itself on its vanguard role in the region has become a risk factor. Nobody is interested in compromise or democracy, politics itself is far away in a military state.... The extent of inhumanity on all sides is remarkable.
FRANCE
EDITORIAL BY PIERRE ROUSSELIN IN LE FIGARO
The assault on the Rabaa al-Adawiya square [in Cairo], which was as deliberate as it was deadly, followed by declaring a state of emergency, can only have one goal: to show that the army will no longer put up with Islamists being able to use the Egyptian revolution to call its power at the heart of the state into question.
EDITORIAL IN LE MONDE
We can legitimately expect the Twenty-Eight [EU countries] to take appropriate action in response to the Cairo carnage. To be clear: they should suspend the 5bn [euros] in aid promised to Egypt. This sanction should continue until a process of talks and democratic mechanisms worthy of that name are restored.
BBC Monitoring reports and analyses news from TV, radio, web and print media around the world. For more reports from BBC Monitoring, click here. You can follow BBC Monitoring on Twitter and Facebook.