Iraq unrest: Baghdad hit by wave of deadly bombings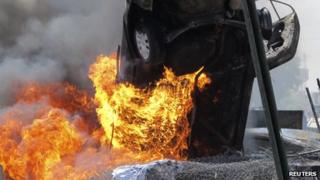 A fresh wave of bombings in the Iraqi capital Baghdad has killed at least 33 people and wounded scores more, officials say.
Reports say at least six car bombs exploded across the city, one close to the heavily fortified Green Zone.
Another blast killed at least seven people near a bus station in Baghdad's northern Khadamiyah district.
The bombings follow a series of deadly attacks across Iraq during the Muslim holy month of Ramadan.
They also come a day after two explosions in the city of Baquba, north-east of Baghdad, killed at least 14 people and wounded another 26.
One of the bombs detonated in a cafe near the city centre and the other in a street.
Surge in violence
Thursday's attacks included a blast about 300m from Baghdad's Green Zone where many diplomatic buildings are located, Reuters news agency said. At least four people were killed.
The bombings reportedly hit both Shia-majority and Shia-Sunni mixed areas of the capital.
Recent months have seen a surge in violence across Iraq, most of it involving Sunni Islamist militant groups targeting Shia Muslim districts.
However, Sunni areas have also been hit.
Casualty figures released by the United Nations showed 1,057 Iraqis - most of them civilians - were killed last month.
The bloodshed in Iraq peaked during the height of the insurgency in 2006-7, but the UN figures make July the deadliest month for years.