Mapping Egypt's flashpoints after Cairo camps stormed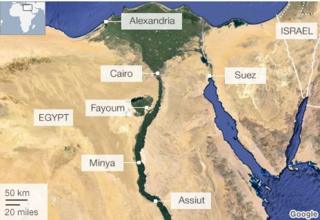 Deadly clashes spread outside Cairo after security forces cleared two camps of supporters of ousted president Mohammed Morsi in the Egyptian capital on Wednesday.
Most of the deaths occurred as the security forces cleared the Cairo camps but a number of people were also killed in violence that erupted across several Egyptian provinces.
Egyptian authorities put the death toll nationwide at 525, with 3,717 others injured. They say 198 of these deaths took place in provinces outside Cairo.
Interior Minister Mohammed Ibrahim said some 43 police officers were among the dead.
It was Egypt's bloodiest day since former President Hosni Mubarak was ousted in the 2011 pro-democracy uprising.
Although violence was reported in many locations, death tolls in specific areas cannot be confirmed.
Alexandria
Egypt's second largest city, situated on the northern Mediterranean coast, was the scene of violent clashes between supporters and opponents of Mr Morsi.
There were reports of Morsi loyalists setting tyres alight in the streets and of stone-throwing between the rival groups.
The security forces fired tear gas to break up the protesters, according to state media.
Zagazig
Protesters took to the streets of Mr Morsi's hometown of Zagazig, on the north-eastern tip of Egypt. Again, tear gas was reportedly used to disperse the demonstrators.
Central provinces
In the central provinces of Minya and Assiut, south of Cairo, several churches belonging to the Coptic Christian minority were torched, including the Saint Ibram and Virgin Mary church as well as the Saint Mina church in Minya.
In Assiut, a police station was attacked and set ablaze by pro-Morsi supporters.
The state-run Mena news agency also reported an attack by pro-Morsi supporters on the Qusiya Coptic Orthodox Diocese, as well as more than a dozen Coptic homes.
Violence also spread to Sohag, another central city with a large Coptic Christian population, where the Mar Gergiss church was reportedly firebombed.
Canal provinces
The canal provinces did not escape the violence, with reports of clashes between police and pro-Morsi supporters in the two cities of Suez and Ismailiya.
Muslim Brotherhood supporters reportedly threw Molotov cocktail bottles at a government building in Suez. The health ministry said at least 5 were killed in the province.
In Ismailiya, protesters threw stones at armoured vehicles. Medical sources told Reuters up to 15 people died in clashes here.
Several Egyptians were also reported killed in Beni Suef, central Egypt, and Beheira, a northern province in Egypt's Delta region.
Health ministry officials told Reuters that at least 35 people were killed after fighting outside several police stations in Fayoum province, some 130km south-west of Cairo.