Iraqi city Baquba hit by deadly double bombing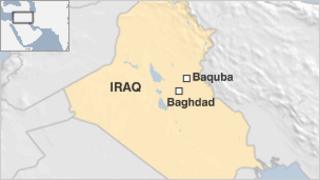 Two bombs have exploded in the Iraqi city of Baquba, north-east of Baghdad, killing at least 14 people and wounding another 26, police said.
One of the bombs detonated in a cafe near the city centre and the other in a street.
The bombings follow a spate of deadly attacks across Iraq during the Muslim holy month of Ramadan.
More than 670 people have died in recent weeks, many as they sat in cafes breaking their daytime fast.
Iraqi authorities are struggling to contain a surge in violence, most of it involving Sunni Islamist militant groups targeting Shia Muslim districts.
However, Sunni areas have also been hit.
Earlier this week a suicide bomb at a cafe in Balad, a largely Shia town about 80km (50 miles) north of Baghdad, killed at least 16 people and wounded another 35.
Analysts say much of the violence is fuelled by anger among Iraq's Sunni minority that the Shia-led government has failed to address.
More than 4,000 people have died in such attacks this year and nearly 10,000 have been injured.
Earlier on Wednesday, Prime Minister Nouri al-Maliki promised to hunt down those behind the recent wave of attacks.
In a televised speech he said police had arrested more than 800 suspects and seized large amounts of explosives and weapons since a security crackdown was launched last month.