Profiles of Palestinian prisoners set to be released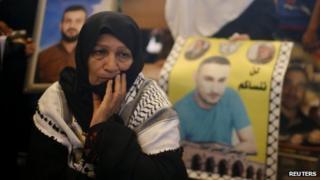 Israel has agreed to free 26 long-term Palestinian detainees as part of a deal enabling US-backed peace talks to resume.
They are the first of 104 Palestinians to be released depending on progress in the talks, which are set to begin on Wednesday.
Below are profiles of the better known prisoners due to be released.
Fayez Mutawi al-Khur
The longest serving prisoner on the list, having been sentenced to life in prison in November 1985 for murder and attempted murder of two Israelis in Gaza City. While in prison, he was convicted of planning to kill Yitzhak Shamir, who was prime minister of Israel at the time. Born in Gaza and now in his early 50s, there have been various reports that he suffers from mental illness following long periods of solitary confinement.
Atiyeh Salem Abu Musa
Perhaps the most controversial prisoner to be released is the 40 year old, from Khan Yunis in Gaza, who was arrested in 1994 for the murder of Holocaust survivor Issac Rotenberg. A member of Fatah, Abu Musa was charged with attacking Rotenberg with an axe during Passover. Speaking to Israeli website Ynet, Rotenberg's son Pinchas has described the decision to release Abu Musa as "not acceptable under any circumstances", saying it is "is a very exaggerated price" for peace talks.
Salah Ibrahim Ahmed Mugdad
Estee Harris has responded with a more hopeful attitude to the release of Salah Mugdad. The latter is a Fatah member from Nablus who was jailed in 1993 for the murder of Estee's father, Israel Tenenbaum, in Netanya. Speaking to Ynet she said "I have only one hope, and it is that this release will be for a good cause…Nothing can return my father. But maybe it will succeed in saving other people. I wish."
Ali Ibrahim al-Ra'i
Imprisoned on 9 April 1994 for murdering 79-year-old Moris Eisenstadt - he was killed with axe blows while sitting in a public park in Kfar Saba.
Ala eddin Ahmed Abu Sitteh and Ayman Taleb Abu Sitteh
The two were imprisoned in January 1994 and sentenced for three life terms for murdering David Dadi and Hayim Weizman in a flat in Ramle. After the murder, they mutilated the bodies, cutting off their ears as proof of the action.
Yusef Said al-Al
Imprisoned in 1994, and sentenced to 22-years for carrying out several grenade attacks and for taking part in the murder of Israeli citizens Ian Sean Feinberg and Sami Ramadan. Feinberg was killed by gunmen during a business meeting he held in Gaza.
Mohamed Abdel Majid Sawalha and Hosni Faregh Sawalha
The two were imprisoned in 1990 for their involvement in a stabbing attack that took place in a bus in Ramat Gan in the same year. They were charged for the killing of 24-year old Baruch Heisler and for wounding three young women.
Salameh Abdallah Musleh
A member of Hamas, he was imprisoned on 9 October 1993 for murdering Reuven David, a shop owner in Petah Tikvah. With the help of an accomplice, he entered the store on 20 May 1991, bound David's arms and legs and beat him to death. He is likely to be sent to Gaza Strip after his release.
Sabih Abed Hammed Borhan
A member of Fatah, he was imprisoned on 18 February 2001 for the murder of two Palestinians. He was a former student at Jerusalem's Open University.
The other prisoners on the list - as named by the Jerusalem Post - are: Samir Nayef al-Na'neesh; Yusef Abdel Hamid Irshaid; Mustafa Othman al-Haj; Salah Mahmoud Mukled; Atef Izzat Sha'ath; Midhat Fayez Barbakh; Mohamed Jaber Nashbat; Samir Hussein Murtaji; Faraj Saleh al-Rimahi; Esmat Omar Mansour; Khaled Mohamed Asakreh; Nihad Yusef Jundiyeh; Mohamed Mahmoud Hamdiyeh; Jamil Abdel Wahab Natsheh; Taher Mohamed Zaboud
BBC Monitoring reports and analyses news from TV, radio, web and print media around the world. For more reports from BBC Monitoring, click here. You can follow BBC Monitoring on Twitter and Facebook.