Israel names 26 Palestinian prisoners for release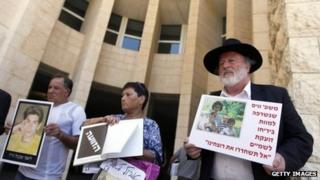 Israel's government has given details of 26 long-term Palestinian prisoners to be freed as part of a deal which will see peace talks resume this week.
A list of names chosen by a ministerial committee was published overnight.
The prisoners will be freed on Tuesday. The delay allows time for last-minute legal challenges by victims' families.
The announcement came after Palestinian officials accused Israel of trying to sabotage the peace talks by approving nearly 1,200 new settlement homes.
Direct negotiations between Israeli and Palestinian negotiators are scheduled to take place in Jerusalem on Wednesday, two weeks after a preparatory round in Washington.
An Israeli government spokesman rejected Palestinian criticism of the housing announcement, saying every peace initiative so far had proposed that the settlements in question become Israeli territory.
The Palestinians have previously agreed in principle to minor land swaps.
About 500,000 Jews live in more than 100 settlements built since Israel's 1967 occupation of the West Bank and East Jerusalem. The settlements are considered illegal under international law, though Israel disputes this.
Protest
On Sunday evening, a statement from the office of Israeli Prime Minister Benjamin Netanyahu announced that 26 prisoners would be released.
It said they would be freed at least 48 hours after their names were published by the Israeli Prison Service.
The list was made public early on Monday, once the families of their victims had been informed.
Fourteen of the prisoners will be returned to the Gaza Strip and 12 to the West Bank. Eight were already due to be released in the next three years, two of them in the next six months.
Palestinian officials said that 20 of them belonged to President Mahmoud Abbas's Fatah movement while the others were from rival groups including Hamas and Islamic Jihad.
The decision was made after a meeting chaired by Defence Minister Moshe Yaalon and including Justice Minister Tzipi Livni and Science Minister Yaakov Perry, as well as the heads of the Israeli Prison Service and the Shin Bet security service.
The committee was due to be chaired by Mr Netanyahu, but he was recovering from overnight emergency surgery to repair a hernia.
The statement stressed that "if one of those released will return to engage in hostile activity against Israel, he will be returned to complete his sentence".
A small group of victims' relatives had protested against the releases outside the Israeli Supreme Court in Jerusalem.
"These are not political prisoners, they are terrorists and murderers who will be returning home to a hero's welcome," said Gila Molcho, whose brother Ian Feinberg was murdered by gunmen while working in a European Union-funded aid office in Gaza in 1993.
"My brother was a lawyer, a man of justice, and we also deserve justice," she said.
Also approved for release are two men jailed for carrying out a knife-attack on a crowded bus in Ramat Gan in 1990, killing one man and wounding three other passengers. Husseini Sawalha and Mohamed Abdel Majid Sawalha were both arrested in December 1990.
A total of 104 Palestinians jailed for attacks carried out before 1993 are due to be freed in four stages over the next few months, as part of the agreement to restart US-brokered direct peace talks after a three-year hiatus.
The victims' families can appeal to the Supreme Court, but it rarely intervenes in such cases.
Health Minister Yael German told Israeli public radio that the prisoner release was painful but appropriate for the sake of peace. She was quoted as saying the dialogue with the Palestinians was like a baby, which could die at any moment given the wrong care.
Prisoner affairs minister Issa Qaraqa described the decision as a strategic step towards the release of all Palestinian detainees.
'Dangerous policy'
The Israeli announcements on prisoner releases and settlement construction were reportedly co-ordinated with US officials as part of the pre-talks framework agreed by Israeli and Palestinian negotiators in Washington in late July.
Palestinians condemned the Israeli ministry of housing's decision to issue tenders for building 793 housing units in East Jerusalem and 394 elsewhere in the West Bank, but stopped short of threatening to abandon the talks.
Hanan Ashrawi, a member of the Palestine Liberation Organisation (PLO) executive committee, told the BBC that Israel was deliberately sending a message to the US that it would press ahead with "stealing more land" regardless of any attempt at launching negotiations.
Chief negotiator Saeb Erekat told the Reuters news agency: "If the Israeli government believes that every week they're going to cross a red line by settlement activity, if they go with this behaviour, what they're advertising is the unsustainability of the negotiations."
Israeli government spokesman Mark Regev said the construction "in no way changes the final map of peace".
"The construction decided upon in Jerusalem and in the settlement blocs is in areas that will remain part of Israel in any possible peace agreement," he told the BBC.
However, Finance Minister Yair Lapid, whose centrist Yesh Atid party is the second largest in Israel's coalition government, said the decision to call for tenders was "unhelpful to the peace process".