Iraq unrest: US condemns Eid attacks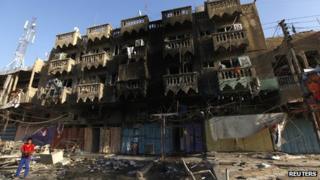 The US has condemned Saturday's bombings and shootings in Iraq in which more than 60 people were killed.
It said those carrying out the attacks during celebrations marking the end of the Islamic holy month of Ramadan were enemies of Iraq and the international community.
The state department said the attacks bore the hallmarks of al-Qaeda in Iraq.
This Ramadan in Iraq is thought to have been one of the deadliest in years, with more than 670 people killed.
In a statement, the state department said: "The terrorists who committed these acts are enemies of Islam and a shared enemy of the United States, Iraq, and the international community."
It reiterated its offer of a $10m (£6.5m) reward for information leading to the death or capture of the group's leader, Abu Bakr al-Baghdadi.
"He has taken personal credit for a series of terrorist attacks in Iraq since 2011, and most recently claimed credit for the operations against the Abu Ghraib prison outside Baghdad, the suicide bombing assault on the ministry of justice, among other attacks against Iraqi security forces and Iraqi citizens," the statement said.
Most of the casualties were in the capital, Baghdad, which was hit by apparently co-ordinated car bombings near markets, cafes and restaurants.
Most of the violence in the past six months has involved Sunni Islamist militant groups targeting Shia Muslim districts, although both Shia and Sunni areas were hit on Saturday.
More than 4,000 people have died in such attacks this year. A further 9,865 have been injured, with Baghdad province the worst hit.
Last week, Prime Minister Nouri al-Maliki vowed to continue operations against militants, saying: "We will not leave our children to these murderers and those standing behind them and supporting both inside and outside."
Many Sunnis accuse Mr Maliki's Shia-led government of marginalising them.
The spike in violence in Iraq has raised fears of a return to the levels of sectarian killing seen following the US invasion 10 years ago, and has led commentators to discuss once again the prospect of partition along community lines.
The Iraqi government has also faced widespread criticism over corruption and the provision of basic services.
The conflict in neighbouring Syria, itself increasingly taking the form of a Sunni-Shia sectarian conflict, is further straining community relations in Iraq.