Egypt crisis: Al-Azhar proposes reconciliation talks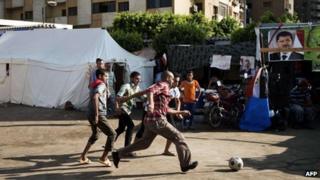 The Grand Imam of al-Azhar, Egypt's top Islamic institution, has begun inviting different political forces to talks on ending the country's political crisis.
Sheikh Ahmed al-Tayyib hopes to oversee a national reconciliation meeting.
Over the past three days, numbers have swelled at two protest camps where people are demanding the reinstatement of ousted President Mohammed Morsi.
The military-backed interim government has said police will clear the sites, raising fears of further bloodshed.
More than 250 people, most of them Morsi supporters, have been killed in clashes since the military deposed Egypt's first democratically elected leader on 3 July following mass protests demanding his resignation.
Deeply polarised
Last week, Egypt's interim President, Adly Mansour, declared that international efforts to resolve the political crisis had "not achieved the hoped-for results".
Mr Mansour said he held the Muslim Brotherhood, to which Mr Morsi belongs, "completely responsible for the failure", as well as "consequent events and developments relating to violations of the law and endangering public safety".
On Saturday, officials from al-Azhar said they had been asking Egypt's political figures to join a meeting on national reconciliation that would be overseen by the grand imam.
They said members of the Brotherhood's Freedom and Justice Party (FJP), and other prominent Islamists were among those who had been approached.
Al-Azhar, a highly respected institution, has had some success at unifying different political forces since the 2011 uprising that toppled President Hosni Mubarak, reports the BBC's Yolande Knell in Cairo.
However, on this occasion, its task is exceptionally difficult, our correspondent says.
The grand imam openly supported the military intervention to remove Mr Morsi after mass street protests, which angered his supporters, and the country is now deeply polarised, she adds.
Before the four-day holiday of Eid al-Fitr, which marks the end of the Islamic holy month of Ramadan, the interim prime minister announced that the decision to disperse the pro-Morsi sit-ins outside the Rabaa al-Adawiya mosque and near Cairo University was final.
"The government wants to give the protesters, especially the reasonable ones among them, a chance to reconcile and heed the voice of reason," Hazem Beblawi told state TV on Thursday.
"The situation is approaching the moment we would rather avoid."
On Friday, Brotherhood leader Mohammed al-Beltagi warned the government: "Kill as much as you like. I won't move an inch… We will offer a million martyrs."
The statements prompted new calls for restraint from the international community.
UN Secretary General Ban Ki-moon said on Saturday that it was "of critical importance that all sides in Egypt - those in positions of authority as well as those protesting in the street - should urgently reconsider their current actions and language".
"Instead, they should try to look creatively at new approaches toward a genuinely inclusive political process that would be rooted in reconciliation," he added.
On Saturday evening, the pan-Arab newspaper al-Sharq al-Awsat reported that the Egyptian authorities would begin moving against the protesters within 48 hours. The plan would be carried out gradually in an attempt to keep casualties to a minimum, government sources said.
"Breaking up the rallies by force will cause approximately 3,000 to 5,000 deaths," onee source told the paper, adding: "This large number of casualties will put us in an awkward position."