Egypt crisis: A challenge for TV channels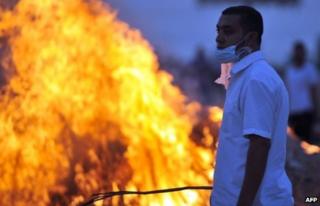 On the private television channel, ONTV, sinister music plays out over footage of the main pro-Morsi protest camp in the Egyptian capital Cairo; it is not shot from inside the camp, but from rooftops nearby.
A presenter, Yousef Husayni, has described members of the Muslim Brotherhood who have orchestrated this demonstration as "liars" and "criminals", "a gang of murderers who must be hanged".
Switch over to another station, Orbit, and the popular host, Amr Adib, is also on the attack.
He has called the Islamist group "sons of filthy people". Their followers are "sheep", "paid and fed to stay on the street".
Media discourse following the ousting of Egypt's Islamist President, Mohammed Morsi, reflects the damaging political division in the country but is also adding to it. Some accuse it of inciting hatred.
At the BBC Monitoring office in Cairo, Angy Ghannam has followed the daily news bulletins and talk shows since mass demonstrations led to the armed forces removing Mr Morsi from office last month.
"Basically the state media and the private media instantly moved to supporting the army. They reacted on the spot to the military council statement, they supported it, they cheered it and adopted an ultra-nationalist tone," she says.
"Some even have a banner saying: 'We are with the army against terrorism'. I haven't seen or heard any pro-Muslim Brotherhood voice on any of these channels since 3 July."
Islamist voice
Several Islamist channels were closed down immediately after the military intervention. Journalists working for them were temporarily detained. However that has not completely silenced them.
A media centre has been set up next to al-Rabaa al-Adawiya mosque at the main sit-in protest for supporters of Mr Morsi.
Journalists from the Muslim Brotherhood channel, Masr 25 (Egypt 25) write the news here for their channel, which has been launched as al-Ahrar 25 (The Free Ones 25).
Presenter Sharif Mansour will not comment on how the station manages to broadcast, but he says reporters were determined to get out their version of events.
"We started up again with limited resources. Our team was insisting that we should carry on even if they slept only a few hours, and went straight from the protests to go on-air without getting dressed up," he says.
"There's a big insistence on conveying the facts not just to Egypt, but to the Arab world and the entire world so that everyone knows what's happening here is a purely peaceful revolution."
Search for clarity
As the temperature cools in the evening, young Egyptians are seated at road-side coffee shops sipping iced drinks and inevitably, discussing recent news events. Many tell me they find the local media a disappointment.
"I think it's really, really difficult to see what's going on in a balanced sort of way - because they just put out different views. That's why I trust my friends more. I use them as a sort of filtration system," remarks Lina.
"The channels contradict each other. It's actually more like opinion than news. You can't really trust them," adds her friend.
Sometimes that distrust spills over into violence.
Last week the security forces used tear gas to disperse angry crowds of Islamist protesters who tried to storm the gates of Media City on the outskirts of Cairo, where Egypt's main state and private broadcasters are still based.
During the last days of Mr Morsi's government, it tried to shut down several of the mainstream channels here, including al-Nahar.
Its head of network, Amr Kahky, says this remains a challenging media environment.
"Polarisation has grown as a result of the polarisation in the political arena," he says.
"I don't know about the editorial policy on other channels but we've been in touch with the Islamists trying to cover their protests. Once we send our cameras over there they attack our camera-people."
"They've always been on the phone, on the screen in the studio until even 4 July - after Morsi was deposed. Then they took that stance that they don't want to talk to us."
Regulation urged
Mr Kahky, who previously worked for the BBC and al-Jazeera English, says Egypt needs more professional media training and independent regulation of news broadcasting.
"This chaotic scene is not helping anyone," he observes.
For now it is calm at Media City but extra security measures are being taken during these tense times.
There is razor wire all around the entrance and a soldier in an armoured personnel carrier sits opposite. Permissions are checked thoroughly at the gate.
The media looks set to remain a front line in Egypt's political struggle.