Syria crisis: Eid al-Fitr in war-torn Homs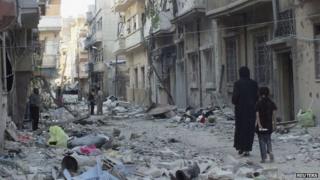 Mohammed* woke at 0600 and broke his Ramadan fast with a hulk of day-old bread and a small block of cheese.
The self-declared peace activist ate these alone, silently sitting in his kitchen in Syria's war-ravaged city of Homs.
Until the start of Syria's uprising in 2011, the 27-year-old's family would gather to break the fast with mountains of sweet meats and cakes, typical of Eid celebrations across the Muslim world.
"My whole family used to go to my grandparents' house and my grandmother would clean for days and make marmoul - a type of sweet pastry made with dates or pistachios," he told the BBC.
But not any more: his family haven't celebrated Eid al-Fitr for three years.
"It's because of the deaths. We don't celebrate Eid when someone dies. Everyone knows someone here who has died. I haven't lost anyone in my family but I have lost many friends."
'Revolution for freedom'
Mohammed says he is working towards the removal of President Bashar al-Assad by promoting the activities of rebels.
His work on social media sites makes him a target for the regime and he has grown used to leading a solitary life, cut off from his family out of fear for their - and his - safety.
But despite the personal danger, he can't bring himself to leave the city of his birth.
"I'm a simple tradesman," he said in a Skype interview. "I have no political views, but I want freedom for my country.
"Freedom from corruption and the family that has ruled our lives and robbed us of our country for over 40 years."
Getting regular sleep and supplies are two issues with which Mohammed struggles. Food stocks in Homs can be sporadic, and are in particularly high demand at this time of year, he said.
Fortunately, Mohammed knows the best places to go. Before joining the early demonstrations in Syria in March 2011, he was a produce buyer for local restaurants.
Although he dreams of a time when he can go back to his day job, he says he has not given much thought to life after the Assad regime.
"The revolution is for freedom, not for food, but we want our oil and gas back too from the Assads."
Though a practising Muslim, Mohammed does not express any particular desire for an Islamic government to control Syria. He wants the people to chose for themselves through a free and fair election.
"Islamic or secular government, it doesn't matter for me," he said. "For me, what is important is justice and the dignity of the Syrian people.
"One family has confiscated Syria for years: they have been arresting people, controlling the economy and prohibiting political parties.
The next leader might be corrupt too, but he will have to respect the people's will."
'Freedom deserves blood'
With no garden of his own, Mohammed walks the streets to breathe fresh air and feel the sun on his skin.
Fighting strays all over his neighbourhood and keeping clear of it involves elements of both skill and luck, he says.
He regularly hears gunfire in the streets and sees buildings in flames, but adds that Eid al-Fitr - traditionally a period of reconciliation and reflection - was relatively quiet.
Eid is a time for large crowds of believers to congregate in mosques or open spaces in a display of Muslim unity.
But these days it is not easy to go to the mosques, said Mohammed.
"It is not easy to go to buy bread either, but after so many years, you kind of get used to the fear.
"Freedom deserves blood and anyone who fights for freedom is ready for death."
*Mohammed is an alias used for security purposes