Iraq violence: Car bombs in and around Baghdad kill 41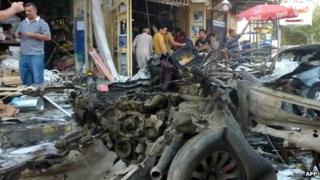 A series of bomb attacks in and around the Iraqi capital, Baghdad, has left at least 41 people dead and more than 100 wounded, officials say.
The deadliest explosion killed 10 in a village northwest of Baghdad.
Six car bomb blasts targeted markets and shopping streets in different parts of Baghdad itself earlier on Tuesday.
A wave of violence has swept Iraq in the past six months, with Sunni Islamist militant groups mostly targeting Shia Muslim districts.
More than 4,000 people have died in such attacks this year. A further 9,865 have been injured so far in 2013, with Baghdad province the worst hit.
One of Tuesday's bombs went off in the central commercial area of Karrada, killing five and injuring 18. Another went off in a commercial area of the suburb of Nahrwan.
Such attacks have often targeted shopping areas in the capital.
Another attack late on Tuesday evening in the village of Anbakiya, to the northwest, killed 10 people and injured 15, local officials said.
Isam Mohammed, the owner of a pharmacy near the site of the bombing in Karrada, blamed the government and the security forces for the continuing violence.
"Government officials have only fortified the places where they and their families live. They forget about the ordinary people who are being killed all the time," he told the Associated Press.
Prime Minister Nouri al-Maliki vowed to continue operations against militants, in a statement issued just before the attacks began.
"We will not leave our children to these murderers and those standing behind them and supporting both inside and outside," Mr Maliki said, according to AFP.
Many of the victims of Tuesday's attacks had been shopping for the end of the day's fasting and for the festival of Eid al-Fitr, which will take place this week and marks the end of the fasting month of Ramadan.
Casualty figures released by the UN mission in Baghdad last week suggested that 1,057 Iraqis were killed in July, making it the most violent month in years.
Militants also broke into two prisons last month, setting inmates free.
Some of the provinces worst affected by the recent violence are dominated by members of the country's Sunni minority.
Many Sunnis accuse Mr Maliki's Shia-led government of marginalising them.
Tensions were worsened when Iraqi security forces broke up an anti-government Sunni protest in the city of Hawija in April, killing and wounding dozens of protesters.