In quotes: Iranian President Rouhani's first news conference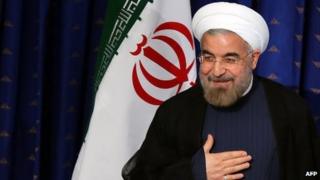 Iranian President Hassan Rouhani has given his first press conference since his inauguration - some of his key remarks have been translated by BBC Monitoring.
On relations with the US
"The Iranian nation's vote in the presidential election was a very serious and meaningful event, which has not yet received an appropriate and practical response by US officials.
"The recent statement by the White House indicates that certain US officials still do not have a proper and comprehensive understanding of this country's realities, the election and this honourable nation's message.
"[American officials'] behaviour and words are contradictory. And the messages, in words and action, are contradictory too."
On Iran's nuclear programme
"Iran's peaceful nuclear programme is a national and cross-party issue. It means that the government stresses Iran's nuclear rights based on international regulations and we will not relinquish people's rights.
"However, we are after interaction and dialogue. We are ready - seriously and without wasting time - to engage in serious and substantive talks with the other sides. However, demands outside any legal framework or illogical and outdated demands will not be useful. We should deal with the issue through a realistic approach.
"The basis of our agenda should be talks, not threats. Threats will not act as a solution and they will only deepen the problem. And if anyone thinks that they can achieve their demands through threats, then they have made a mistake and they are seriously wrong.
"I, as Iran's president, announce that the Islamic Republic of Iran's system is seriously politically determined to resolve this issue, while safeguarding the Iranian nation's rights. And at the same time, it will consider resolving the concerns the other party has."
On his election
"In addition to the enthusiasm and hope created inside the country as a result of the people's epic participation in the election, there also began constructive interaction with the region and the world.
"Domestically, the election was indicative of the consolidated process of democracy and the deepening of political dynamism in Iran.
"Internationally, the approach of moderation and reason had this clear message for the whole world: that the Iranian nation's intent is dignified interaction with the world and pursuing national interests."