Egypt crisis: Diplomats in fresh mediation efforts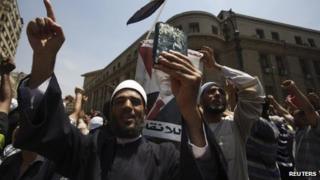 Diplomats are continuing efforts to defuse Egypt's political crisis, with US Deputy Secretary of State William Burns visiting Muslim Brotherhood deputy head Khairat al-Shater in jail.
However, Mr Shater cut the visit short, saying they should instead meet with ousted president Mohammed Morsi.
Egypt has been deeply polarised since Mr Morsi, a Brotherhood member, was deposed by the military on 3 July.
Thousands are taking part in sit-ins in Cairo demanding his reinstatement.
Amid a flurry of diplomatic activity to resolve the crisis, US Senators John McCain and Lindsey Graham also arrived in Cairo on Monday to take part in two days of talks.
Offer denied
There has been mounting tension over plans to break up the two mass sit-ins by Morsi loyalists outside the Rabaa al-Adawiya mosque in the suburb of Nasr City, and in Nahda Square, near the campus of Cairo University in Giza.
There had been reports that the new interim government was prepared to release leaders of the Muslim Brotherhood from custody and offer the group ministerial positions if they called an end to the sit-ins, the BBC's Yolande Knell reports from Cairo.
However, a presidential adviser denied such an offer had been made - and Mr Morsi's supporters repeated that they would accept nothing short of his reinstatement, our correspondent adds.
Several prominent Brotherhood figures were arrested in a crackdown on the Islamist movement following Mr Morsi's removal, including Brotherhood leader Mohammed Badie and Mr Shater.
More than 100 Morsi supporters have also been killed in clashes with security forces. At least 80 died in a single incident near the Rabaa al-Adawiya mosque on 27 July.
The army removed Mr Morsi following huge protests against him. The new government has outlined its own roadmap leading to fresh elections in 2014.
Leaflets over protests
According to Brotherhood spokesman, Gehad al-Haddad, Mr Shater told the US delegation led by Mr Burns that he was in "no position to speak" and that they should direct their questions to Mr Morsi.
He told the diplomats that Mr Morsi held the key to solving the crisis and that there was no alternative to constitutional legitimacy, according to statements on Mr Haddad's Twitter feed.
Separately, the spokesman told Reuters news agency that the Brotherhood had rejected the diplomats' pleas to "swallow the reality" that Mohammed Morsi would not return as Egypt's president.
Correspondents say the visit by the two senators is part of Washington's attempt to keep up the diplomatic momentum after several days of meetings between US and EU envoys, government officials and Morsi supporters.
Before heading to Egypt, Mr Graham warned that the Egyptian military must back out of politics quickly or risk a cut of the $1.5bn (£0.98bn) in aid that it receives from the US each year.
Also on Monday, the EU's envoy, Bernardino Leon, met Prime Minister Hazem Beblawi.
The foreign ministers of Qatar and the United Arab Emirates are also involved in the diplomatic push, and are reported to have visited a Muslim Brotherhood leader in recent days.
Over the weekend, the government reiterated its call for Morsi supporters to end their sit-ins.
A government helicopter dropped leaflets over the Rabaa al-Adawiya demonstration which pledged that protesters would face no action if they had not committed a crime.