Israel widens Jewish settlement subsidies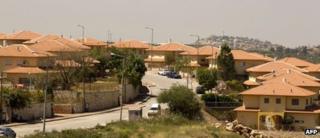 Israel has agreed to subsidise several Jewish settlements that it classed as illegal until recently.
Three out of 91 settlements designated as priority areas for development were legalised within the past year, the Peace Now settlement watchdog said.
Israel said the subsidies were needed for security reasons.
Palestinian official Hanan Ashrawi said the move would have a "destructive impact" on peace talks, which resumed last week after a three-year hiatus.
"This is exactly what Israel wants, have a process for its own sake, and at the same time have a free hand to destroy the objective of the process," she said in quotes carried by the Associated Press.
"It seems to me it's up to the sponsors, the United States and the international community, to make Israel desist immediately."
'Illegal outposts'
In order to get the Palestinians to agree to the talks, Israel approved the release of more than 100 Palestinian prisoners.
The first group is due to be freed on 13 August.
The issue of settlement-building halted the last direct talks between the Israelis and Palestinians in September 2010.
About 500,000 Jews live in more than 100 settlements built since Israel's 1967 occupation of the West Bank and East Jerusalem.
Settlements are considered illegal under international law, although Israel disputes this.
On Sunday, the cabinet published a list of more than 600 towns and settlements to be regarded as priority areas for development.
The areas are considered to be in need of state benefits and subsidies.
Israel publishes the list relatively frequently, and changes the areas it regards as needy.
The latest list included a total of 91 settlements, up from 85 in last December's list.
Peace Now said in a statement that the list included the settlements of Bruchin, Sansana and Rehalim.
The watchdog said these were all "illegal outposts" until recently, when they were designated neighbourhoods.
Their inclusion on the list apparently sparked disagreements in the Israeli cabinet.
Four ministers abstained from the cabinet vote, including Environment minister Amir Peretz who said it was a political move that "goes against efforts to promote peace".
Justice Minister Tzipi Livni, the lead negotiator peace talks with the Palestinians, also abstained.