Syrian conflict: Many dead in Lebanon border air strike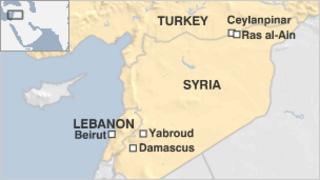 At least six people have been killed in a Syrian war plane attack on the town of Yabroud, just across the border from Lebanon, reports from Lebanon say.
Nine people were wounded in the attack near the Lebanese town of Arsal, which hosts many refugees from Syria.
The reports say several of the injured were taken to Arsal while others were transported to Baalbek, the largest city in Lebanon's Bekaa Valley.
Both sides in the Syrian conflict have allies and supply lines in Lebanon.
Separately, a man has been killed in the Turkish border town of Ceylanpinar by a stray bullet fired from across the border in Syria, reports say.
He is the fourth person to be killed on the Turkish side of the border, amid clashes across the border in the Syrian town of Ras al-Ain that has seen fighting in recent weeks.
Also on Saturday, rebels captured an arms depot near Damascus, seizing ammunition and weapons, including anti-tank missiles and rockets, from the regime, activists said.