Rouhani inauguration: Iranian voices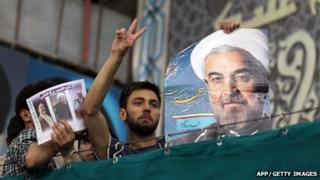 Iran's president-elect Hassan Rouhani will be inaugurated in a swearing-in ceremony on Sunday.
Mr Rouhani has two weeks to present his cabinet to the Iranian parliament.
The cleric, who won the presidential poll in June, has promised reform and an end to Iran's international isolation.
The 64-year-old is a former nuclear negotiator for Iran and was an Islamic activist before the country's 1979 Revolution.
Here, readers in Iran share their thoughts about the issues and challenges facing the new president.
Nikta, 40, doctor, Hamedan
I am so excited about the fact that we will finally be saying goodbye to [outgoing president Mahmoud] Ahmadinejad.
He brought the country to the verge of ruin and distorted the view of Iran and Iranians throughout the world. Rouhani is a welcome change.
Still, the Supreme Leader's power will be the most challenging issue for him, in my opinion.
Khamenei will try to limit him and not let him pursue his reformist goals, either domestic or foreign.
The other important issue is how Western powers will react to Rouhani taking office. I hope they can co-operate with him and support the reforms that are aimed at developing our country.
I hope he can establish a friendly relationship with Western countries, so that the devastating economic sanctions can be lifted.
I also hope to see the release of prisoners of conscience and more openness in political debate inside the country.
Bahman, 50, unemployed, Tehran
I have no interest at all in the inauguration ceremony as I did not vote. Elections are shams in this country. Your vote simply does not count.
Some may consider Rouhani a moderate but nothing will change as he will have no choice but to obey [the country's Supreme Leader Ayatollah Ali] Khamenei's orders.
The main concern for the ruling clerics now is buying more time so they can manufacture the nuclear warheads they have always sought.
This regime is only interested having the upper hand over Israel. Meanwhile, people are still suffering from the trials of everyday life in Iran.
They should be dealing with more important issues like rising food prices, unemployment and corruption. These, along with rising crime, are just a few of the problems in Iran.
For those reasons, I and many other people don't really care what is happening in the presidential palace and we will certainly won't be watching the ceremony on TV.
Akbar, 60, estate agent, Tehran
I see the economy as the most pressing issue that Rouhani will now have to deal with.
The soaring prices of food and essentials cannot be ignored. There has also been little improvement in the value of the Riyal [the Iranian currency] against the dollar.
Another pressing issue for Rouhani is the nuclear one. How he will deal with it remains to be seen.
Whether he can bring the Supreme Leader Khamenei - who already said he doesn't believe in negotiating with the US - on board, is the key question.
I also think Rouhani's cabinet lacks new faces to bring fresh solutions to lingering problems.
Reza, 46, medic, Tehran
In light of recent US actions against Iran, I am not holding my breath about Iran's future direction, following Rouhani's inauguration.
Iranian people have been under enormous pressure from sanctions imposed by the US.
They chose Rouhani hoping that at least his moderate image would calm the situation.
However, American politicians saw things differently. The election of Rouhani was an olive branch from the Iranian people to the US.
What we got in return was more sanctions - risking a backlash, even from the moderate camp.
The Iranian moderates have now been put in a defensive position even before they form a new government.
The most pressing issue Rouhani's government is facing is Iran's economy, which is in a dire situation.
People are under pressure. Rouhani literally needs to perform an economic miracle.
That said, the economy alone is not enough to topple an Iranian regime.
Iranian people have lived under sanctions for decades and they have hardened up, while successive Iranian governments have learned to take short-term measures and live one day at a time.