Iran's Rouhani calls Israel 'old wound' on Islamic world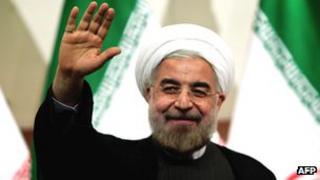 Iran's President-elect Hassan Rouhani has called Israel an "old wound on the body of the Islamic world".
His remarks echo those of other Iranian leaders and come on Jerusalem (Quds) Day, held every year in Iran to support the Palestinians and denounce Israel.
Iran has denied Israel's right to exist since the 1979 Islamic revolution.
Mr Rouhani is due to be inaugurated as the country's new president on Sunday, replacing Mahmoud Ahmadinejad .
Speaking at a rally, Mr Rouhani said: "There is an old wound on the body of the Islamic world, under the shadow of the occupation of the holy lands of Palestine and Quds [Jerusalem].
"This day, is to remember that the Muslim population, will not forget its historic right and will resist tyranny and occupation."
Some Iranian media quoted him as saying that this wound should be "cleansed", but the transcript of his remarks does not reveal that sentiment, the BBC Persian service says.
The Israeli government appears to have reacted to these particular words, says the BBC's Iran correspondent James Reynolds in London.
In a statement, Prime Minister Benjamin Netanyahu said that the "true face" of Mr Rouhani had been revealed sooner than expected.
"Even if the Iranians work to deny these comments, this is what the man thinks, and [it] reflects the regime's plans," he said.
Mr Netanyahu said Mr Rouhani's statement on Friday should serve to "wake up the world from the illusion" that a new Iranian president meant a new policy by Tehran: "The president there has changed, but the goal of the regime has not changed."
Friday also marks President Ahmadinejad's last day in office; he is due to make his last live televised address later on.
Correction 19 August 2013: This story has been amended to make clear that Hassan Rouhani's remarks alluded to the state of Israel, rather than just areas under its occupation.