Iran sanctions bill on oil passed by US House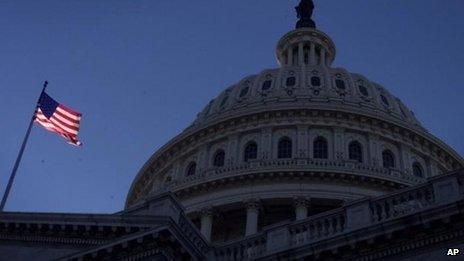 US lawmakers have approved a sweeping bill aimed at slashing Iran's oil exports even further over its disputed nuclear programme.
The bill adopted by the lower house of Congress penalises countries that buy Iranian oil and further limits Iran's access to overseas bank accounts.
The Senate must also approve the bill before it becomes law.
The move comes three days before the inauguration of Iran's moderate President-elect Hassan Rouhani.
The Nuclear Iran Prevention Act was drafted well before Mr Rouhani's election victory in June, but critics, including 20 dissenting members of the House of Representatives, believe that more time should be given to finding a diplomatic solution to Iran's nuclear impasse.
"It gives ammunition to the hardliners who will operate against him, so the timing of this bill could not be worse from a foreign policy perspective," said Democrat Jim McDermott, who voted against the bill.
Iran has described the move as ''unhelpful'' and said that it will not change its nuclear policy.
Iranian oil exports have already been halved from pre-sanctions levels when they stood at 2.2 million barrels per day.
The house bill obliges the US administration, which has not supported the move, to reduce Iran's oil exports by another one million barrels per day (bpd).
It is uncertain if the Senate will adopt the one million bpd figure when it votes on the bill in September.
Mr Rouhani's election victory raised hopes that existing sanctions may be eased after 130 US lawmakers wrote a letter to the White House, asking for all "diplomatic tools" to be used in dealing with Iran.
The US treasury department also took the step of expanding a list of medical devices that can be exported to Iran without special permission.
Some of the house members who voted in favour of the bill were signatories to the letter asking for a diplomatic approach with regards to Iran.
Other members in support of the sanctions bill remained adamant.
"Rouhani is no moderate, he's just slick. He has lied to the United States in the past, and don't be deceived, he is not even in charge of Iran," said Republican Ted Poe.
"The ayatollah [Supreme Leader Ayatollah Ali Khamenei] is still calling the shots, and is determined to get nuclear weapons and eliminate Israel and the United States."