Livni urges Israel coalition to support peace talks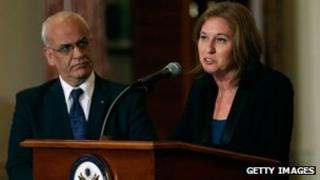 Israel's peace negotiator, Tzipi Livni, has called on parties in its coalition government to back the latest round of direct talks with the Palestinians.
Ms Livni told Israeli army radio that coalition partners had a "collective responsibility" to support her efforts.
Her warning came after the leader of a major party in the coalition reiterated its opposition.
On Tuesday, she and her Palestinian counterpart gave themselves nine months to reach a "final status" agreement.
After hosting the first direct negotiations in three years in Washington, US Secretary of State John Kerry announced that there would be substantial talks in the next two weeks, either in Israel or the Palestinian territories.
Mr Kerry said all issues were "on the table" for discussion.
"We cannot pass along to another generation the responsibility of ending a conflict that is in our power to resolve in our time," he added.
'Hope'
Speaking to army radio, Ms Livni said she had been "encouraged" by her meetings with the chief Palestinian negotiator, Saeb Erekat.
"It was an event in which there was a kind of excitement and also hope."
"It was important that there was a first meeting, after several months in which the Americans ran between us and them and we didn't sit with one another," she added.
Mr Erekat told reporters on Tuesday: "I'm delighted that all final status issues are on the table and will be resolved without any exceptions."
"It's time for the Palestinian people to have an independent sovereign state of their own."
In her radio interview, Ms Livni also warned all parties in Prime Minister Benjamin Netanyahu's government - in which she is justice minister - not to criticise the negotiations publicly.
"I know that there are partners in the coalition that are not interested in a two-state solution, but they have a collective responsibility and as long as they are part of the coalition they must support negotiations," she said.
Earlier on Tuesday, Naftali Bennett, the leader of the Jewish Home party and minister for Jerusalem and diaspora affairs, heavily criticised Palestinian Authority President Mahmoud Abbas for telling reporters in Egypt that any final status agreement "would not see the presence of a single Israeli - civilian or soldier - on our lands".
"The president of the Palestinian Authority said he doesn't want to see any Israelis on his land. Bad things happen when good people are silent. Good people need to act," Mr Bennett was quoted as saying by the Jerusalem Post, apparently paraphrasing Edmund Burke.