Maccabiah Games reinforce Jewish identity through sport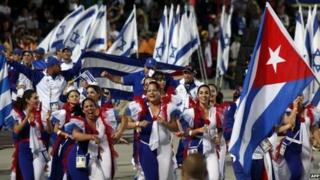 The Maccabiah Games, known as the Jewish Olympics, are taking place in Israel.
The contest, which takes place every four years, brings together Jewish athletes from around the world to take part in events from rugby to gymnastics, to cycling and rowing.
This year around 9,000 competitors from more than 70 countries are taking part in a competition that is as much about Jewish identity as sport.
This year, for the first time, a Cuban delegation is taking part - even though Cuba doesn't have diplomatic relations with Israel. Sponsored by Jewish American donors, the players were helped by an easing on travel restrictions on groups leaving Havana. Rafael Gonzales, 24, who's competing in archery, says he is proud to be in Israel.
"It is the first time Cuba is participating - it is very exciting," he says. "It's the best for us as athletes, as Jewish athletes."
The first games, which were supported by early Zionist leaders, were held in 1932 when rising anti-Semitism in Europe made it hard for Jews to compete in big sporting events. At the second games in 1935, shortly after Hitler came to power, many athletes chose not to go back to Europe and settled here.
These days the games aim to encourage connections between Jews in the diaspora and Israel. The Chairman of the Maccabiah, Amir Peled, says the games try to bring Jews of all ages and nationalities together through sport.
"Sport is something that unites everybody," he says. "If you come with the tool of sport, and add to it Jewish identity, add to it love for Israel, that's the idea behind the Maccabiah."
Age range
While winning is clearly important, many of the athletes agree that these games are as much about Jewish identity as elite sport.
The swimming races are a case in point, with a wide range of ages among the swimmers - the youngest are in their teens and the oldest in their 80s.
David Letschert, 42, a swimmer from South Africa, says the event is a big Jewish reunion.
"It's just fantastic as a Jewish athlete to meet other Jewish athletes from around the world. I think it's 75% socialising and 25% sport when you are a master swimmer and probably the other way around when you are a group swimmer."
While a handful of Israeli Arabs take part in the games, this is an overwhelmingly Jewish event, something that the Israeli sports commentator Ron Kofman has criticised.
"If there is a sports event, everyone who wants to come should come," Mr Kofman says. "It's sport. There's no room for religion or race in sports."
But organisers say this is an opportunity to teach visitors from abroad about Israeli institutions - including the army.
And dating and matchmaking are also on the agenda. Amir Peled says the games offer plenty of chances for young and older Jews to get to know each other.
"Thousands of people are together. You meet Israelis and you meet people from other countries and if you get dates or marriages out of it, I can only be happy."
Passionate cheering and the blast of vuvuzela - plastic horns - came from the stands as an Israeli girls' football team took on South Africa, but despite the sporting rivalry, the organisers say strong Jewish links are forged on the pitch.