Dozens dead in violence across Iraq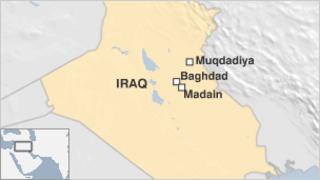 At least 31 people have been killed in another wave of violence across Iraq, officials say.
Fifteen died in a bomb attack in the town of Muqdadiya, 80km (50 miles) north-east of the Iraqi capital Baghdad.
A bomb near a cafe in Madain south of Baghdad killed at least two.
And the bodies of 14 Shia Muslims with gunshot wounds to the head were found at a fake checkpoint set up by Sunni militants 200km north of Baghdad.
Local officials said the checkpoint was maintained for half an hour, during which militants checked documents and summarily killed those drivers who they found to be Shia.
The attack followed a major assault on the nearby town of Suleiman Bek which drew security forces away from the road.
'Horrible scene'
One report said the Muqdadiya blast happened in a crowded cafe where people had been gathering after dark to break the daily Ramadan fast.
Government employee Ahmed Ibrahim told the Associated Press news agency he was shopping near the cafe at the time.
"Everybody rushed to the explosion site and saw charred bodies that were thrown outside the cafe because of the powerful explosion," he said.
"The scene was horrible."
Correspondents say night cafes have become frequent targets of militants recently.
The latest violence comes three days after a mass prison escape.
A local al-Qaeda affiliate said it had organised the breakout, in which hundreds of inmates left two jails after an attack by gunmen.
On Thursday, parliament speaker Osama al-Nujaifi warned that the escape could worsen the country's already deteriorating security situation.
Thousands of people have died this year in continuing unrest.