Egypt crisis: Soldier killed in Mansoura bomb blast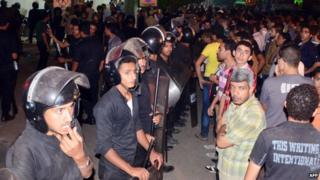 One soldier has died and another is in a critical condition following a bomb blast in the Egyptian city of Mansoura.
Health officials said 29 people were hurt. A timed bomb hidden under a truck detonated near the security directorate in the Nile Delta city, north of Cairo.
Overnight in the capital, unidentified gunmen shot dead two supporters of the deposed President, Mohammed Morsi.
About 100 people have died in clashes between backers and opponents of Mr Morsi since he was ousted from office.
A spokesman for the health ministry in Mansoura said gunshots were exchanged between police and unknown assailants at the time the bomb went off.
Fears over violence
On Saturday night three women were killed in the same city, after clashes broke out during a march to support Mohamed Morsi.
The BBC's Quentin Sommerville in Cairo says the latest violence is a worrying sign that Egypt's political crisis is intensifying.
The killing of two pro-Morsi demonstrators in Cairo follows a familiar pattern, with both sides in the dispute having been attacked in this way, our correspondent adds.
Supporters of the ousted president have been attending regular rallies near Cairo University in the capital, as well as demonstrations elsewhere in Egypt.
Mr Morsi has been held at an undisclosed location without charge since army chief Gen Abdul Fattah al-Sisi announced his removal on 3 July.
The army declared it had suspended the constitution, and organised a new temporary administration led by an interim President, Adly Mansour, the head of the Constitutional Court. A technocrat cabinet was later unveiled.
On Monday Mr Mansour made a televised appeal for an end to the violence. He called for a "new page in the book of the history of the nation, without rancour, hatred and confrontation".
Mr Morsi's family says they have had no contact with him since his detention.
On Monday, his daughter Shaimaa confirmed they were taking legal measures against the army.
The Gulf state of Qatar - which has been supportive of the ousted president's Muslim Brotherhood movement - has become the latest country to call for Mr Morsi's release. A foreign ministry source told the Qatar News Agency that a political solution in Egypt could not be achieved as long as the former leader continued to be detained.
The United States has also urged Egypt's interim authorities to set him free. They say he is being held for his own protection.