Abu Qatada refused bail by Jordan military court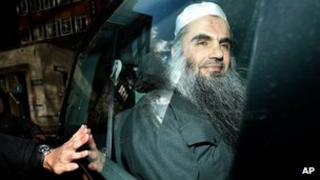 A Jordanian military court has refused bail to radical Islamist cleric Abu Qatada, who faces terrorism charges after being deported from the UK.
His lawyer Taysir Diab said no reason had been given for the refusal.
The 53-year-old preacher was convicted in absentia of plots against Westerners in Jordan in 1999 and 2000. He faces a retrial there. No date has been set.
He was arrested in the UK in 2001 and fought an eight-year battle against extradition that ended three weeks ago.
Just hours after his deportation, military prosecutors charged him with conspiracy to carry out terrorist acts - relating to a plot to bomb American and Israeli tourists during Jordan's millennium celebrations.
The Palestinian-Jordanian cleric was remanded in custody for 15 days and taken to eastern Jordan's Muwaqqar prison.
Under Jordanian law, those convicted in absentia have the right to a retrial.
"The state security court today refused to release Abu Qatada on bail," Mr Diab said on Sunday, quoted by AFP news agency.
"The court gave no reason for its decision. I will meet with Abu Qatada on Wednesday to look into the issue and decide future steps."
Abu Qatada, whose real name is Omar Othman, was granted asylum in the UK in 1994 but the Security Service came to view him as a threat as his views hardened.
The cleric's deportation was finally able to proceed after the UK and Jordan signed a treaty agreeing that evidence obtained through torture would not be used against him.