Egypt army 'kills Sinai militants' after surge of attacks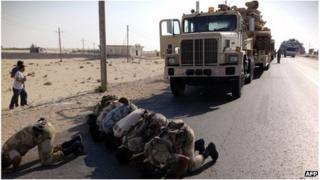 Ten jihadi fighters have been killed in Egypt's Sinai peninsula over the past 48 hours, according to state news agency Mena.
The deaths came after three police officers were killed by gunmen in separate attacks on Wednesday, it said.
The Egyptian army is trying to contain a surge in violence that has hit the restive region following the overthrow of President Mohammed Morsi.
Reinforcements have been been sent to the area with Israel's agreement.
The area borders Gaza and deployments there are subject to the 1979 peace treaty between Israel and Egypt.
Army offensive
Ten "Takfiri" or Sunni jihadi fighters had been "eliminated" under the security campaign, Mena quoted a military source as saying.
On Wednesday, officials say three policemen were killed and two injured in an attack in North Sinai.
On Tuesday, militants fired rocket-propelled grenades at a checkpoint in the border town of Rafah, wounding six police officers and two civilians, AFP news agency quoted security sources as saying.
And on Monday, three cement-factory workers were killed in an attack on their bus in El Arish in northern Sinai.
Israel has permitted Egypt to send two military battalions into the region to "fight terrorism".
Since the toppling of former Egyptian President Hosni Mubarak in 2011 there have been periodic surges in violence as Islamist extremists attempt to take advantage of a security vacuum to gain a foothold.
Brotherhood proposal
Meanwhile, Muslim Brotherhood spokesman Gehad el-Haddad told Reuters news agency the group had proposed a framework for talks to address Egypt's political crisis via the European Union.
It is the first time the Brotherhood has proposed such negotiations since the overthrow of Mr Morsi on 3 July, although both the Brotherhood and the EU cautioned that the proposal was at a very early stage.
It came before a visit to Egypt on Wednesday by EU foreign affairs chief Catherine Ashton, Mr Haddad said.
Mr Haddad said the Brotherhood would be willing to negotiate over any political issue, but repeated that the army decree that saw Mr Morsi's removal would have to be rescinded.
"You can't come on a tank and remove an elected leader... It is a stand-off, it is either a military coup or a democratic choice," he told Reuters.
EU envoy Bernadino Leon told Reuters that both the Brotherhood and Egypt's new ruling regime were "in very firm positions" but were "not completely closed to the possibility of re-engaging".