Palestinians undecided on Kerry peace talks plan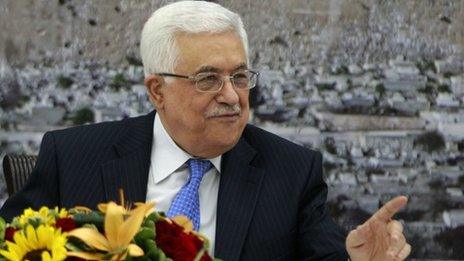 Palestinian leaders have ended a meeting to discuss a possible revival in peace talks with Israel without reaching a decision.
Palestinian President Mahmoud Abbas had briefed them on the latest US proposal to restart talks.
Reports suggest many present felt the plan did not do enough to ensure talks about borders would be based on pre-1967 ceasefire lines.
US Secretary of State John Kerry has been in the region to discuss the plan.
Having extended his visit to the region by a night amid signs of progress, Mr Kerry will return to the US on Friday.
A State Department official said Mr Kerry would consult Israeli and Palestinian leaders before leaving, adding that the debate over reviving peace talks was "appropriate and encouraging".
The BBC's Yolande Knell in Jerusalem says the outcome will be disappointing for Mr Kerry after another week of intense shuttle diplomacy in which he won support from the Arab League for his peace plans.
The White House said President Barack Obama had spoken to Israeli Prime Minister Benjamin Netanyahu by telephone, urging him to resume negotiations with the Palestinians "as soon as possible".
The State Department has acknowledged that Mr Kerry is unlikely to be able to announce a breakthrough on his latest visit.
"There are currently no plans for an announcement on the resumption of negotiations," said spokeswoman Jen Psaki.
Mr Kerry has not given details of his plan to revive direct peace talks, which stalled nearly three years ago. However, he has met Mr Abbas in Jordan twice in the past two days.
After a meeting in Amman, the Arab League supported the latest US proposals saying they "provide the ground and a suitable environment to start negotiations".
This raised speculation that President Abbas's Fatah faction and senior members of the broader Palestine Liberation Organisation (PLO) would concur at meetings in Ramallah.
However, several members of the Fatah central committee have already asked for changes to the US plan.
And most officials who attended the meeting with PLO leaders "described Kerry's offer as not sufficient for resuming negotiations with Israel," PLO official Qais Abdel-Karim told Reuters.
Previously the Palestinians have demanded a freeze on Israeli settlement construction in the occupied West Bank and East Jerusalem before a return to peace talks. They have also asked for negotiations about borders to be based on pre-1967 ceasefire lines.
Israel's coalition government, which includes pro-settler parties, has said there should be no preconditions.
It is widely reported in the Israeli media that Mr Kerry has presented a plan that includes the resumption of talks on pre-1967 lines with land swaps that take into account the major settlement blocs in the West Bank.
The reports suggest that, in return, Palestinians would recognise Israel as a Jewish state.
The Israeli prime minister's office has declined to comment.
On his Facebook page, Naftali Bennett, who leads the third biggest party in the Israeli governing coalition, rejected any such terms.
"The Jewish Home party under my leadership will not be a partner, not even for one second, in a government that agrees to negotiation based on 1967 lines," he said.
"Jerusalem, our capital, is not and will never be subject to negotiations."
Such a deal would also be extremely difficult for Palestinians to accept as it has serious implications for Palestinian refugees and the Israeli-Arab population.
The rights of Palestinian refugees, borders, settlements and the status of Jerusalem are all core issues in any final status peace agreement.
In recent months, John Kerry has paid six visits to the Middle East in an effort to restart talks between Israel and the Palestinians.
He has said that time is running out for a two-state solution to their decades-old conflict.