Can Kerry persuade Israel and the Palestinians to talk?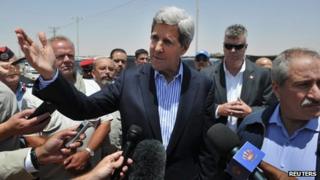 No-one is saying much in public. No-one is ready to say it will definitely happen.
But there is a growing flurry of predictions that US Secretary of State John Kerry may get Israeli and Palestinian negotiators back to the table.
"Neither side wants John Kerry to fail," said one senior Israeli official.
More importantly, neither side wants to be blamed for his failure.
What is clear is how badly Mr Kerry wants to succeed. Since he took up his post, he has made this his mission - no matter how frustrating, if not futile.
The secretary of state is now on his sixth trip to the region during six months of dogged diplomacy shuttling between Ramallah, Jerusalem, Amman, and beyond.
On Wednesday, he spoke with cautious optimism. "We continue to get closer and I continue to remain hopeful that the sides can soon be able to come and sit at the same table."
On Thursday, Palestinian President Mahmoud Abbas was meeting senior members of the Palestinian Liberation Organisation and his own Fatah party to discuss a possible resumption of the talks which last broke down in 2010 over settlement construction in the West Bank and other issues.
Settlements are still a major stumbling block. As Mr Kerry shuttles, Israel keeps announcing plans and permits for new homes.
"President Abbas can't go back to the table while settlements are still being built," one of his senior advisors insisted to me a few days ago.
You hear a similar sentiment on the Israeli side. "It's hard for Prime Minister Netanyahu to come out publicly at this moment and say he will freeze settlement activity before talks even begin," commented an Israeli official with knowledge of the negotiations.
He said the Israeli leader "needs a package".
Saving face
Mr Kerry's mission is to come up with something that saves face on both sides, and rescues a long troubled process.
Through endless hours of face-to-face talks and telephone conversations, aides from all sides are trying to put together a detailed plan of incentives and commitments.
To bolster the beleaguered Palestinian president's credibility, and strengthen his hand in the region, Mr Kerry is also enlisting the support of Arab leaders.
On his last visit in late June, he met President Abbas and his negotiating team in Amman, along with Jordan's King Abdullah and his top advisors.
This time, he also held meetings in Jordan's capital with nine Arab League foreign ministers who publicly backed his efforts.
The long-buried Arab League Initiative of 2002 is in the mix again, with its pledge of full recognition of Israel if it gives up land captured in the 1967 war, and provides a "just solution" for Palestinian refugees.
A statement released in Amman also mentioned the possibility of "limited land swaps... of the same value and size".
"Israel needs to look hard at this initiative, which promises Israel peace with 22 Arab nations and 35 Muslim nations − a total of 57 nations that are standing and waiting for the possibility of making peace with Israel," Mr Kerry said.
Prioritising peace
But it still comes down to the political will of Israeli and Palestinian leaders.
"We still don't believe Netanyahu is committed to a two state solution," another Palestinian official involved in the negotiations told me recently.
"Neither side trusts the other," affirmed an Israeli advisor. "They both think the other is just trying to buy time to prevent worse alternatives from happening."
But Israel's complacency over settlement expansion was shaken this week by new EU guidelines barring financial assistance to any Israeli organisations operating in areas occupied in the 1967 war including the Golan Heights, the West Bank and east Jerusalem.
Prime Minister Netanyahu condemned the move. President Shimon Peres urged the EU to hold off on sanctions and "make peace the priority."
But Israel columnist Chemi Shalev wrote in the Haaretz newspaper that instead of burying Mr Kerry's efforts, the EU's new pressure could be "the electric jolt that brings it to life".
During Mr Kerry's visit last month there were also optimistic statements saying the resumption of talks would be announced. A Jordanian newspaper even gave the time of a press conference when it would happen.
Caution remains and there's still a great deal of pessimism mixed in with these new expressions of hope.
Even if they do sit down around a table again, there is the bigger question of whether they will ultimately succeed in closing a deal, at last. On that, all bets are off the table for now.
The priority now is just getting to the table.