Arab League backs Kerry's Israel-Palestinian plan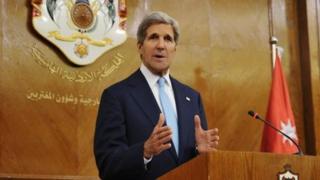 The Arab League has given its backing to US Secretary of State John Kerry's plan for restarting peace talks between Israel and the Palestinians.
The endorsement came as Mr Kerry met League members in Jordan, his sixth trip to the region in as many months.
The last round of direct Israeli-Palestinian talks broke down two years ago over the issue of settlements.
Mr Kerry said he was hopeful both sides "would soon be able to come and sit at the same table".
There had been "very significant" gaps between the Israeli and the Palestinians since his efforts to restart talks began several months ago, he said.
But "through hard and deliberate, patient work, and most importantly through quiet work we have been able to narrow those gaps very significantly," he told reporters in Amman.
Mr Kerry declined to go into specifics about his discussions, saying there was "still some language that needs to be worked out".
He also urged Israel to "look hard" at a Saudi-backed peace initiative first proposed in 2002. The plan would offer full recognition of Israel, but only if it returned all land seized in the 1967 war and agreed to a settlement of the Palestinian refugee problem based on a UN resolution passed in 1948.
Mr Kerry said that it gave Israel the promise of peace with the Arab world.
Israel has said it could not accept the terms as originally proposed but has indicated a readiness to consider the idea of the plan.
The Arab League delegates in Jordan later issued a statement saying they "believe Kerry's ideas proposed to the committee today constitute a good ground and suitable environment for restarting the negotiations, especially the new and important political, economic and security elements".
Mr Kerry has offered the Palestinians a $4bn (£2.6bn) package of economic incentives as part of his effort to set the stage for peace talks.
On Tuesday, the American diplomat met the Palestinian Authority President, Mahmoud Abbas, for a five-hour working dinner.
Late last month Mr Kerry carried out another round of intense shuttle diplomacy involving Palestinian leaders and the Israeli Prime Minister, Benjamin Netanyahu.
Division over settlements
The issue of Jewish settlements in the West Bank remains one of the biggest stumbling blocks between the two sides.
Mr Abbas has said that Israel must freeze settlement-building before stalled peace talks can resume, while Mr Netanyahu has urged Mr Abbas to return to talks without preconditions.
There was an angry reaction in Israel earlier this week when the European Union approved new guidelines which prevent Israeli projects in occupied territories from receiving European grants or prize money.
Israel gave its final approval on Wednesday for the construction of more than 700 new settlement homes in Modiin Ilit, halfway between Jerusalem and Tel Aviv.
One of the Palestinians involved in negotiations with Mr Kerry, Mohammed Ishtayeh, said the approval had been timed to obstruct Mr Kerry's efforts.
"It has become a trend to see such Israeli behaviour each time an American or an international official visits the region to push forward the negotiation track," Mr Shtayyeh said.