Iraq bomb attacks leave dozens dead in Baghdad area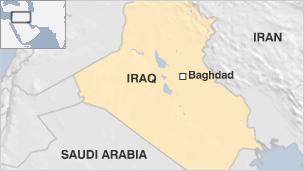 Two bomb attacks near Sunni mosques in the Iraqi capital Baghdad have killed at least 21 people and wounded dozens more, Iraqi officials say.
The explosions reportedly hit worshippers gathering to pray after breaking their fast for Ramadan.
At least three people died in a separate attack at a funeral north-east of the city.
The blasts come a day after some 38 people were killed in a bombing in a cafe in the northern city of Kirkuk.
Customers were again believed to have been marking the end of the day's fast at the time.
At least 16 people died when a bomb went off near the gates of a mosque in the southern Dora area of the city at about 22:00 (19:00 GMT) on Saturday.
And a car bomb that exploded at second Sunni mosque, this time in the Jamia district in western Baghdad, killed at least another five people.
The bomb attack at the funeral north-east of Baghdad which killed three people also left another 10 wounded.
No group has said it carried out the bombings.
More than 2,500 Iraqis have died in violent attacks since April, according to UN figures released last week.
The recent surge in violence comes amid heightened tensions between Iraq's Sunni and Shia communities, and claims by the Sunnis that they are being marginalised by Prime Minister Nouri Maliki's Shia-led government.