Egypt investigating complaints against ousted Morsi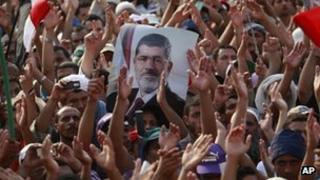 Egypt's public prosecutor's office says it is investigating complaints against ousted President Mohammed Morsi and members of the Muslim Brotherhood.
They include spying, inciting killing protesters, attacking military barracks and damaging the economy. It did not say who had filed the complaints.
Mr Morsi was deposed by the army on 3 July. The US has called for his release from detention at an unknown location.
Egypt's interim leader Adly Mansour has promised new elections early next year.
Dozens of people have died in clashes during major demonstrations by pro- and anti-Morsi protesters in the past few weeks.
Reconciliation blow
The prosecutor's office said it was investigating the complaints in order to prepare a file so that those accused could be questioned.
Among those named with Mr Morsi are the Brotherhood's leader, Mohamed Badie, and senior members of its political wing, the Freedom of Justice Party (FJP) including Deputy Director Essam El-Erian.
Mr Badie and other leaders are already the subject of arrest warrants, on charges of inciting violence outside a military barracks in the capital, Cairo, last Monday in which more than 50 people were killed.
The Brotherhood says its members were fired on while holding a peaceful vigil, but the army says soldiers reacted after coming under attack.
Mr Morsi's supporters, many of them members of the Islamist Muslim Brotherhood movement he comes from, have been staging mass protests in Cairo, since the army's intervention on 3 July.
They are demanding his reinstatement as president and say the military's removal of him amounted to a coup.
The army says it intervened to remove Mr Morsi in response to protests by millions of Egyptians who accused him of becoming increasingly authoritarian and failing to tackle economic difficulties.
The BBC's James Reynolds, in Cairo, says the move by the prosecutor's office appears to weaken the already remote prospects for a reconciliation between the interim authorities and the Brotherhood.
On Friday, Germany's foreign ministry urged the authorities to end restrictions on him and allow an international organisation, such as the Red Cross, access to him.
Asked later if the US agreed that he should be released, state department spokeswoman Jen Psaki told reporters: "We do agree."
On Saturday, the Brotherhood said the main issue was "protecting the legitimate right of the people and their will through a democratic ballot box".
Spokesman Gehad el-Haddad said there would be further protest and sit-ins "until the president is released and reinstated regardless of his physical condition".
Transition rejection
Mr Morsi, who was Egypt's first freely elected leader and the first Islamist president, has been held at an undisclosed location since 3 July. The army has suspended the constitution.
On 8 July, Mr Mansour laid out the timetable for a new constitution and elections, which included:
a panel to form formed within 15 days to propose changes to the constitution
parliamentary elections to be held by early 2014
presidential elections to be held once parliament has convened
But Mr Morsi's supporters have rejected the plan and some political groups opposed to him, including the main liberal coalition to the National Salvation Front (NSF) say they were not consulted about it.