US calls for halt to Egypt's Muslim Brotherhood arrests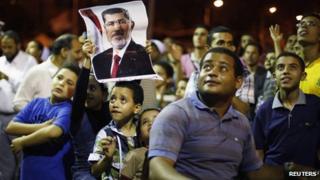 The US has urged Egypt's leadership to stop the "arbitrary" arrests of Muslim Brotherhood members, warning against targeting any particular group.
"You're working against yourself if your effort is to be inclusive," White House spokesman Jay Carney said.
UN chief Ban Ki-moon also warned against the exclusion of any party.
Rival rallies are expected in Cairo on Friday amid rising tensions over the army's overthrow of Islamist President Mohammed Morsi last week.
Supporters demanding Mr Morsi's reinstatement have continued to stage mass protests in Cairo this week near the barracks - where he is believed to be being held.
On Thursday, the Obama administration and UN both raised concerns about Egypt's decision to issue arrest warrants for the leader of the Muslim Brotherhood - to which Mr Morsi belongs - and nine senior figures of the movement.
"The only way this is going to work successfully... is if all parties are encouraged and allowed to participate and that's why we've made clear that arbitrary arrests are not anything that we can support,'' Mr Carney said.
Mr Ban "made clear that there is no place for retribution or for the exclusion of any major party or community in Egypt," in a telephone call with Egypt's Foreign Minister Kamel Amr on Thursday.
Ramadan Friday
US state department spokeswoman Jen Psaki voiced even harsher criticism, saying the arrests contradicted reassurances they had received by the Egyptian military and authorities of inclusivity.
US policy makers would monitor the situation closely as they review decisions on assistance to Egypt, she added.
While the White House has not yet publicly confirmed comments by unnamed US officials that it will go ahead with a planned delivery of four F-16 fighter jets to Egypt, spokesman Jay Carney said that the administration did not believe it should immediately suspend aid to Egypt.
Meanwhile, tensions continue to rise as Brotherhood leaders urge supporters to attend mass rallies across Cairo on the first Friday of Ramadan.
Their opponents are planning rallies for Tahrir Square, including a mass iftar - breaking the fast.
On Thursday the Muslim Brotherhood vowed to continue "peaceful resistance to the bloody military coup against constitutional legitimacy".
The BBC's Jim Muir in Cairo says the Brotherhood is not planning any marches but organisers are hoping that a massive turnout will show support snowballing in their favour.
The standoff has become a battle for the middle ground, our correspondent says.
Mr Morsi's removal - a year after he was elected - followed protests by millions of people across Egypt.
While the new authorities have not specified where Mr Morsi is, a foreign ministry spokesman has said he is in a "safe place" and being treated in a "very dignified manner".
However, dozens of people have died in deadly clashes in the aftermath of his ousting. On Monday alone more than 50 Morsi loyalists were killed in clashes with the army.
The Muslim Brotherhood's spiritual leader, Mohammed Badie, and nine other senior figures were charged on Wednesday with inciting Monday's violence, despite conflicting accounts of the incident.
Our correspondent says Mr Morsi may have alienated many people while in office, but many Egyptians are also uneasy at the implication of the military's intervention into politics, Monday's carnage and the crackdown against the Muslim Brotherhood leadership.
Mr Morsi's supporters say they are not seeking confrontation or violence, but given the bitterly polarised situation, with feelings running high on both sides, the potential is always there, he adds.