Egypt's Morsi ousted: Papers express joy and concern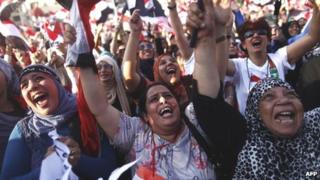 Many Egyptian newspapers express relief and delight over the ousting of President Mohammed Morsi.
However the paper of the pro-Muslim Brotherhood Freedom and Justice party insists on the need for "constitutional legitimacy".
Elsewhere in the region, few rush to Mr Morsi's defence, but some are concerned about what the future may hold.
"The people are the master"
"It is our right to be happy," says Muhammad Amin in the Egyptian privately-owned liberal daily Al-Masry al-Youm. "Egypt belongs to us again… with the people, the army and the police united," he enthuses. Apologising to the world for "presenting the worst president ever in history", he adds that "whoever claims that this is a military coup is mistaken."
Ahmad al-Birri in the best-selling, state-owned daily Al-Ahram says the Egyptian people have announced "the birth of a new state based on freedom and democracy with the participation of all."
Ibrahim Mansur in Egypt's privately-owned liberal daily Al-Tahrir has a warning for the next president. "The people are the master, so let whoever assumes any post know that this land has a great people who deserve something better than what exists now," he says.
The only pro-Muslim Brotherhood paper, Freedom and Justice, leads with a headline which quotes the presidency as saying: "Violating constitutional legitimacy threatens democracy".
Barrier of fear "broken"
Abd-al-Bari Atwan in the pan-Arab daily Al-Quds Al-Arabi describes yesterday's events as "a military coup covered with a civilian and religious face". "We hope that reason will prevail and that the Muslim Brotherhood will accept the situation and will prepare for the next presidential and parliamentary elections," he says.
Saudi-owned pan-Arab Al-Sharq al-Awsat says the Muslim Brotherhood has missed an opportunity to rule Egypt "handed to them on a golden plate". "The Muslim Brotherhood are now the defeated and hounded ones," Abd-Al-Rahman al-Rashid says.
Muhammad Abu-al-Fadl in London-based Al-Arab Online says that if the Muslim Brotherhood insists on confrontation, this will "lead to their end forever, especially now that the barrier of fear has been broken and millions of people have taken to the streets".
"The stuff of national disasters"
In Turkey, Necati Dogru in the Sozcu daily says Mr Morsi had become a "religious dictator" who "snatched control of everything". But Abdulkadir Selvi in Turkey's Yeni Safak warns of a domino effect in the region if democracy in Egypt is not upheld, and concludes: "Morsi, don't give up."
Davud Mohammadi in Iran's reformist daily Sharq says events in Egypt serve as a warning to other Arab Spring governments that "staying in power requires full commitment to political and campaign promises."
However, privately-owned Tunisian daily Al Chorouk rejects any comparison. "It does not seem that efforts to launch a Tunisian Tamarod movement can succeed," it says, since "Tunisians do not copy experiences or initiatives" from other countries.
Saudi Arabia's Al-Watan praises the Egyptian army's "extremely responsible patriotic stance", while Lebanese pro-Syrian government daily Al-Akhbar accuses the Muslim Brotherhood of having practised "the ugliest kind of exclusion, which indicated a deep hunger for power".
Zvi Barel in Israel's Ha'aretz agrees that "Morsi was in too much of a rush to fully wield his powers". But Mordechai Kedar in Israel's Ma'ariv warns that the divisions between supporters and opponents of Mr Morsi "are the stuff from which national disasters are made" and that "Egypt could certainly descend into civil war".
BBC Monitoring reports and analyses news from TV, radio, web and print media around the world. For more reports from BBC Monitoring, click here. You can follow BBC Monitoring on Twitter and Facebook.