Fresh attacks across Iraq leave 14 dead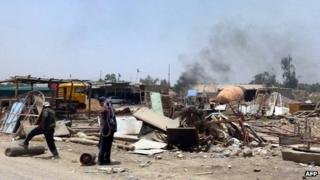 At least 14 people have been killed in a series of attacks across Iraq.
Seven people died when a bomb exploded on a busy street in Nahrawan, a south-eastern suburb of the capital, Baghdad. The bodies of three builders were also found in the nearby area of Zafaraniya.
Later, two car bomb blasts killed four people in the northern city of Mosul.
The deaths bring to 123 the number of people killed since Monday in a wave of bombings and attacks across Iraq, amid an upsurge in sectarian violence.
No groups have said they were behind the recent violence, but much of it has occurred in predominantly Shia Muslim areas.
On Tuesday, at least six car bombs exploded in markets and commercial areas of the capital. In total, at least 49 people were killed nationwide.
Ramadan warning
The UN has said that more than 2,500 people were killed in April, May and June, which is believed to be more than twice the death toll from violence in the first three months of the year.
A Kurdish MP said the situation was unlikely to improve because it would soon by the Islamic holy month of Ramadan, when militants have stepped up their attacks in recent years.
"Nothing will change," Hassan Jihad, who sits on parliament's security and defence committee, told the AFP news agency.
"This month will not be better because the security forces will carry out the same routine," he warned, adding that militants would "continue to show that they are everywhere, that they can reach any place".
The upsurge in sectarian violence was sparked by an army raid on a Sunni anti-government protest camp near the northern town of Hawija in April that left 50 people dead.
The protesters were calling for the resignation of Shia Prime Minister Nouri Maliki and denouncing the authorities for allegedly targeting the Sunni community.
Although the violence is less deadly than that seen during the heights of the insurgency in 2006 and 2007, it is the most widespread since the US military withdrawal in 2011.