Wave of bombings across Iraq kill dozens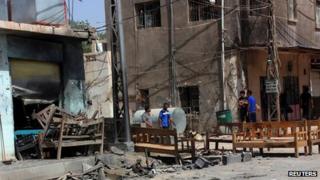 At least 40 people have been killed in a wave of bomb attacks across Iraq - most of them in the capital Baghdad.
Busy Shia market areas in the capital were the main targets. In the most serious attack, nine people died when two car bombs went off in the northern Shaab district.
Iraq is suffering its worst sectarian violence since 2008.
The UN released figures on Monday indicating that over 2,500 Iraqis have died in violent attacks since April.
Heightened tensions
More than 30 people were killed in Baghdad alone on Tuesday, with several car bombs ripping through markets and commercial areas.
Car bombs also went off in the predominantly Shia cities of Basra, Amara and Samawa, killing three people and injuring 50, the AFP news agency reports.
Four people reportedly died after a suicide bomber blew himself up inside a tent where a funeral was taking place in the city of Baquba, north-east of Baghdad - a day after a car bomb destroyed a coffee shop there, killing 10 people.
The recent surge in violence comes amid heightened tensions between Iraq's Sunni and Shia communities, amid claims by the Sunnis that they are being marginalised by Prime Minister Nouri Maliki's Shia-led government.
Violence erupted in April when Iraqi security forces stormed an anti-government Sunni protest in the city of Hawija, killing and wounding dozens of protesters.