Suicide bomber targets Iraq Shia mosque killing 22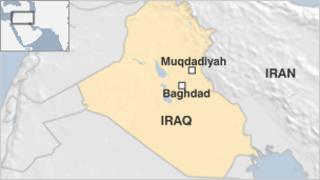 At least 22 people have died in a suicide bomb attack targeting a Shia mosque in the Iraqi town of Muqdadiyah on Monday evening, police say.
The attack came on the same day the UN mission in Iraq released figures indicating that over 2,500 Iraqis have died in violent attacks since April.
Muqdadiyah is located 80km (50 miles) north-east of the capital, Baghdad.
It is the latest in a series of deadly sectarian attacks to strike Iraq's Diyala province.
Iraq has been suffering its worst sectarian violence in several years with May the bloodiest month since June 2008, according to recent figures.
However, the UN's latest casualties figures show a drop in the number of fatalities from 1,045 in May to 761 in June.
Trapped
A suicide bomber set off his explosive belt at the funeral ceremony of a police officer in Muqdadiyah late on Monday, police say.
The police officer was reportedly killed in a recent roadside bomb attack.
The explosion brought down the ceiling of the mosque, with people still believed to be trapped beneath the rubble.
A separate attack targeting a cafe in the central city of Baquba reportedly killed at least eight people and wounded 20 others on Monday.
In June, 10 Iranian Shia pilgrims were killed after a suicide bomber rammed a car packed with explosives into a bus in Muqdadiyah.
The recent surge in violence comes amid heightened tensions between Iraq's Sunni and Shia communities, amid claims by the Sunnis that they are being marginalised by Prime Minister Nouri Maliki's Shia-led government.
Violence erupted in April when Iraqi security forces stormed an anti-government Sunni protest in the city of Hawija, killing and wounding dozens of protesters.