Vatican confirms Catholic priest was killed in Syria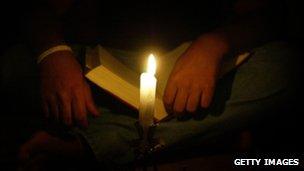 A Syrian Roman Catholic priest was killed in northern Syria last month, the Vatican has confirmed.
A statement said the circumstances of Father Francois Murad's death were "not fully understood", but that it happened on 23 June in the convent of the Custody of the Holy Land in Ghassaniya.
The Franciscan took refuge there after the monastery of St Simon was bombed.
Some initial reports said Fr Murad was beheaded by jihadist militants, but activists now say that he was shot.
The beheading claims were based on a video posted online at around the same time that appears to show two prisoners being executed by rebels.
The video's title referred to the killing of a priest and a bishop, but none of the victims can be identified and none of those featured in the video refer to such an event.
After analysing the footage, local activists and Human Rights Watch said it was most likely filmed in a different location several months before Fr Murad was killed.
The Custody of the Holy Land, a Franciscan order which is the official custodian of religious sites in the Middle East, had also issued a statement two days after Fr Murad's death saying Islamists shot him.
"Islamists attacked the monastery, ransacking it and destroying everything," it said. "When Father Francois tried to resist, defending the nuns, rebels shot him."