Syria conflict: 'Suicide bomb' in Damascus Christian area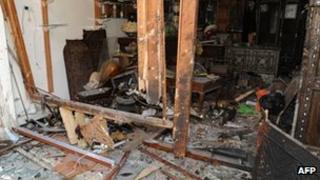 A blast in an old Christian quarter of the Syrian capital Damascus has left four people dead, in what Syrian state TV describes as a suicide attack.
Several people were injured in the attack in the Bab Sharqi neighbourhood, near a church.
Rebel sources confirmed the number of dead, but said the attack was caused by a mortar bomb.
More than 90,000 people have died and millions have been displaced by Syria's two-year conflict, the UN says.
Reports say that the bomber was wearing a suicide belt and blew himself up outside the Virgin Mary Greek Orthodox church.
Some shops were damaged in the blast.
No-one has claimed responsibility for the attack.
There have been consistent but unverified reports of violence directed against Christians in Syria since the uprising began in March 2011, including attacks on churches.
Syria's Christians are believed to make up about 10% of the population, but despite their minority status they have long been among Syria's elite.
They were at first reluctant to take sides in the rebellion against President Bashar al-Assad but have gradually been drawn into the conflict on both sides.