Egypt protesters clash ahead of Morsi anniversary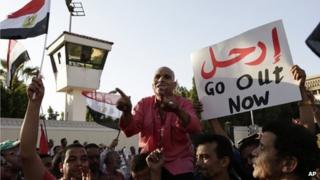 Supporters and opponents of Egyptian President Mohammed Morsi have clashed ahead of the first anniversary of the leader coming to power.
Two people have been killed and more than 170 injured in the northern city of Mansoura, a health ministry spokesman told the BBC.
Mr Morsi is due to address the nation on Wednesday evening.
Troops have been deployed across Egyptian cities ahead of planned weekend protests demanding his removal.
Many Egyptians have reportedly begun stocking up on basic food supplies, fearing unrest.
The head of the army earlier warned it would not allow Egypt to slip into "uncontrollable conflict".
There has been speculation over whether Mr Morsi will make concessions in the speech or outline a tougher stance.
Fuel shortages
Correspondents say hundreds of anti-government supporters have gathered in Cairo's Tahrir Square where big screens have been set up to broadcast the president's speech.
Meanwhile Egyptian state TV broadcast live images of anti-government protesters outside the defence ministry in Cairo.
The demonstrators were shown waving Egyptian flags and carrying signs saying "Out".
Soldiers have been stationed in areas of the capital, Cairo, where pro-Morsi protesters are expected to gather following Friday prayers.
Armoured trucks are lining the streets in near Rabaa al-Adawiya Mosque in the city's east, which has become a gathering point for Islamist protesters.
Troops have also been deployed to protect the presidential palace and other public buildings in Cairo.
Tensions in Cairo have been rising ahead of the demonstrations planned for the weekend, with counter-demonstrations by Islamists in support of Mr Morsi planned for the coming days.
There have also been acute shortages of fuel in the city, leading to huge traffic jams as well as long and sometimes bad-tempered queues at petrol stations, adding to the febrile atmosphere.
Some Cairenes have begun stockpiling food in anticipation of street clashes between the two opposing political camps, with staples including canned goods, grains and frozen vegetables much sought after.
Security sources said the area around the presidential palace - the scene of previous clashes - had been closed off ahead of the rallies, in addition to deployments to protect other major public buildings.
'Dark tunnel'
Gen Abdel-Fattah al-Sisi said the army was obliged to stop Egypt plunging into a "dark tunnel", in remarks which were seen as one of the strongest interventions since the army handed over power to President Morsi last year.
Anti-Morsi activists say they have gathered 13 million signatures on a petition calling for the Islamist leader to step down. They want early presidential elections to be called to replace him.
His supporters say any move to unseat him now would be undemocratic.
Mr Morsi took power on 30 June 2012. His first year in office has been marred by constant political unrest and a sinking economy.
Many analysts say the instability and a continuing threat of violence have frightened away foreign investors and tourists.
There is increasing unemployment, particularly among the young, and the country's foreign currency reserves are falling.