New Qatari emir Sheikh Tamim 'set to announce reshuffle'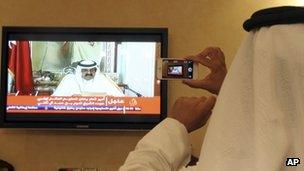 Qatar's new Emir Sheikh Tamim bin Hamad Al Thani is set to announce a cabinet reshuffle, a day after taking over from his father Sheikh Hamad, officials say.
Sheikh Tamim is due to address the nation on Wednesday after his official enthronement.
Long-serving Prime Minister and Foreign Minister Sheikh Hamad bin Jassim Al Thani is expected to step aside.
Sheikh Hamad - also known as "HBJ" - has been a prominent figure in regional diplomacy.
One man mentioned as a possible replacement for the role of prime minister is Abdallah Bin Nasser Bin Khalifa Al Thani, currently minister for internal affairs.
The previous emir, Sheikh Hamad bin Khalifa Al Thani, 61, announced the handover to his 33-year-old son in a speech broadcast on Qatari television on Tuesday, saying it was time for a "young leadership" to take over.
"Our youth have proved in recent years that they are resolute people, that they comprehend the spirit of the times and participate in it," he said.
A peaceful handover is a rarity for the Gulf, where most rulers stay in place for decades, normally until they die.
Qatar has been dominated by the Al Thani family for almost 150 years.
Sheikh Hamad seized power from his father Sheikh Khalifa in a bloodless coup in 1995, with the support of the armed forces and cabinet, and also neighbouring states.
Since then the emir has introduced some political and economic liberalisation, and in recent years has made Qatar a major player in regional diplomacy.
In 2003, he named Sheikh Tamim - his second son by his second wife Sheikha Moza bint Nasser - as his heir apparent. He replaced his elder brother, Sheikh Jassim Bin Hamad Al Thani.
Analysts say the British-educated Sheikh Tamim, who is deputy commander-in-chief of the armed forces, is unlikely to deviate far from his father's policies.
He chairs the 2030 Vision project which outlines the development goals for the country and has a clear liberalising social agenda. The project has had significant input from his father and mother.
Sheikh Tamim is also head of the Qatar 2022 Supreme Committee, which is in charge of preparing the emirate to host the 2022 Fifa World Cup.
In foreign policy, the emirate is expected to maintain its alliance with the West while at the same time pursuing an activist stance in Syria and other Arab countries.
However, he will also inherit strained relations with some of Qatar's Gulf neighbours, notably Bahrain and the United Arab Emirates (UAE), who have been angered by Qatar's perceived closeness to the influential regional Islamist movement, the Muslim Brotherhood.
The emirate has also tried to increase its diplomatic prestige further afield. Earlier this month, Afghanistan's Taliban movement opened its first office in the capital Doha to facilitate peace talks with the United States.