US troops in Jordan 'a signal to Syria'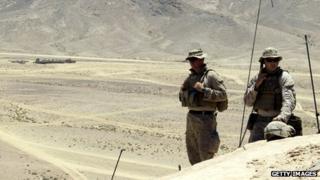 Hundreds of US troops are now stationed in Jordan, many remaining on after a joint military exercise. Their presence sends a message to neighbouring Syria, but as the BBC's Quentin Sommerville reports from Amman, it has stirred some unease in Jordan itself.
Attack helicopters flew low over the desert in Quweira in northern Jordan, swiftly destroying targets in the sand, while F16 and Harrier jump-jets provided back up.
A considerable show of force, Operation Eager Lion had more than 8,000 men and women taking part from more than 19 countries.
American and Jordanian troops were in the thick of the action.
This 12-day annual exercise was as realistic as war-gaming gets: the rounds being fired were live.
But despite the war in neighbouring Syria, Rear Adm William Lescher, one of the American commanders, insisted that this was a routine exercise.
"The regional security to tends to ebb and flow. Our view is that our consistent enduring presence here is what really helps stabilise that," he said.
"As the tensions ebb and flow, our focus is to really just work well with the Jordanians."
Combat-ready
It is the third time the exercise has been held in Jordan. Adm Lescher said this year it was smaller than last. He was sticking to a script that this was business as usual. He would not be drawn on the perceived threat from Syria. "That's not on my radar screen," he said.
Only 150km (93 miles) from the Syrian capital, Jordan is of vital strategic importance should a no-fly zone be established, or other military action taken against Syrian President Bashar al-Assad. A clear message was being sent to Damascus: heavy weaponry is close at hand.
Patriot missiles and an unspecified number of F16 fighter jets had already been sent to Jordan before Operation Eager Lion began in mid-June.
Some 700 American troops have stayed behind, and they are combat-ready. They join the 100-plus US soldiers who are already in the country advising Jordan's armed forces on its deployment to Afghanistan.
For some like former Jordanian Army Brigadier General Ali Habashna, their presence is drawing Jordan further into danger.
"We all know that when the US puts its troops somewhere, in a country, they become part of the crisis, they worsen it," he said.
"An example of that was Afghanistan and Iraq. The presence of US soldiers right now in Jordan, given the tension in the region and Syria, is very dangerous for Jordan."
There were small protests on the streets of Amman last week attacking President Assad, the Iranian-backed militia Hezbollah and the increasing numbers of American soldiers of Jordanian soil.
For some like Jordanian pro-democracy activist Omar Abu Rassa, the international community should be tackling President Assad directly.
"We think that the West generally and the United States specifically, if they want to be positive to our area, they have to finish the conflict inside Syria by supporting the Syrian Free Army, not by bringing the soldiers to our country."
The war games finished with special forces taking to the sea. Jordanian and American troops descended on to a passenger ferry from Blackhawk helicopters. High speed boats tackled the ship from the side. The scenario was a hostage situation.
US President Barack Obama says the extra troops will leave Jordan when the security situation improves - but no-one expects that to happen anytime soon.