Iraq violence: Dozens killed in Baghdad bombings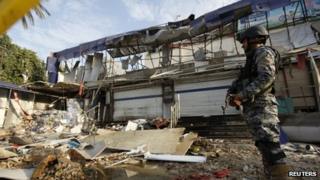 A series of car bomb explosions in the Iraqi capital, Baghdad, has killed more than 30 people, local officials say.
They say that dozens of people were injured in the blasts that targeted mainly Shia areas of the city.
No group has so far said it carried out the attacks.
There has recently been a surge in sectarian attacks across Iraq. Last month was the bloodiest since June 2008, with 1,045 civilians and security officials killed.
The deadliest attack on Monday was in Baghdad's western district of Jihad, where at least eight people died in twin car bomb blasts on a busy road.
At least five people were also killed in the central Karrada district.
Officials also reported deadly attacks in several other parts of the city.
Elsewhere, at least three people were killed in violence in the northern city of Mosul.
Tensions between Iraq's Shia Muslim majority, which leads the government, and minority Sunnis have been steadily growing since last year.
Sunnis have accused Prime Minister Nouri al-Maliki of discriminating against them - a claim the government denies.