Israeli top rabbi placed under house arrest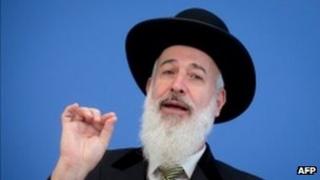 One of Israel's two chief rabbis has been placed under house arrest on suspicion of corruption.
Anti-fraud detectives say they have been carrying out an undercover investigation into Yona Metzger's financial dealings for months.
Mr Metzger, the spiritual leader of Ashkenazi Jews, and three associates, are suspected of receiving bribes, theft and money laundering
His 10-year term as a state-appointed chief rabbi ends in July.
The rabbi was questioned on suspicion of fraud in 2005, but was not prosecuted.
As well as providing spiritual leadership, the Chief Rabbinate is responsible for legal and administrative aspects of religious Jewish life in Israel.
Chief rabbis are appointed from both the Ashkenazi and the Sephardi communities.
Broadly speaking, Ashkenazi Jews are descended from the Jews of central and eastern Europe, whereas the Sephardim have their roots in the Iberian peninsula and the Middle East.
As well as ethnic differences, the two communities also have varying religious customs.