Yemen market suicide bomber kills two in Saada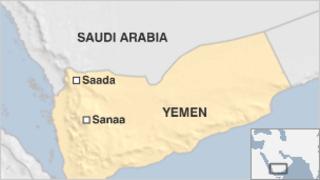 A suicide bomber has struck a market in the northern Yemen town of Saada, killing at least two other people.
Witnesses said the man blew up a bomb-laden motorbike in the town, which lies about 130km (80 miles) north of the capital, Sanaa.
At least eight other people were injured in the attack.
Saada is a mainly Shia city in the north of majority Sunni Yemen, and has been under the control of Houthi Shia rebels for several years.
"The bodies flew across the market and people panicked as they ran for cover," one witness told Reuters.
"The scene was frightening and terrible."
A security official told the agency that the two people the bomber killed were civilians.
Intermittent fighting between the rebels and government troops over the past decade has killed thousands of people, but the two sides have been observing a truce since 2010.
The rebels are currently taking part in a national dialogue laying the groundwork for full democratic elections in 2014, following the resignation of President Ali Abdullah Saleh after a popular uprising in 2011.
However tensions have been growing in recent months between the Sunni-dominated government, which says the Houthi are backed by mainly Shia Iran, and the rebels, who say they are politically and socially marginalised.
The rebels are also in conflict with Al-Qaeda in the Arabian Peninsula (AQAP), a regional offshoot of the Islamist militant network which has built up a strong presence in Yemen.