Can Iran's Hassan Rouhani deliver?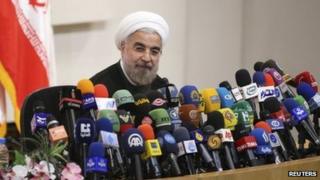 In his first press conference since his landslide victory, Iran's President-elect Hassan Rouhani promised Iranians they were entering a new era, saying he hoped the country and the world would be able to re-start "constructive" dialogue.
There was a definite air of excitement in the hall as a relaxed and smiling Mr Rouhani took questions from the local and international press.
His victory was a triumph of "moderation over extremism", he said, repeating the words "unity", "co-operation" and "respect" many times in his remarks.
As expected, the economy was a key theme.
Rampant inflation, largely caused by international sanctions, has left Iran's economy in its worst state for two decades.
Mr Rouhani said tackling high inflation and unemployment would be his first priority.
He pledged to start working with the current government immediately to make some progress before he officially takes over from the outgoing administration of Mahmud Ahmadinejad in August.
'Cruel' sanctions
Mr Rouhani was also asked about the prospects for progress in the ongoing dispute over Iran's nuclear programme.
As a former nuclear negotiator, he said Iran could ease the sanctions by being more transparent in its nuclear programme and by building mutual trust with other countries.
But he took the opportunity to call the sanctions imposed on Iran "cruel" and "backward", adding that only Israel would benefit from them.
Hassan Rouhani is seen as a moderate pragmatist cleric. He was secretary of the Supreme National Security Council for 16 years, and during his time Iran voluntarily suspended enrichment of uranium to ease tensions with the West.
The suspension ended on the first week Mr Ahmadinejad took office and Mr Rouhani resigned.
Time and patience
There is much anticipation among Mr Rouhani's supporters about whether he will act to free the two opposition leaders - Mir Hussein Mousavi and Mehdi Karroubi - who have been under house arrest since the 2009 election.
Mr Rouhani was almost the only candidate who raised the issue during the campaign, calling for the release of all prisoners of conscience.
After his victory many young people in Tehran and other cities poured into the streets to celebrate and chanted slogans urging Mr Mousavi's release.
At the press conference on Monday, the issue was raised - albeit unofficially - when a member of the audience disrupted proceedings by shouting that Mr Mousavi should be freed.
Mr Rouhani reassured his supporters that he would not forget his electoral promises, but he said the issue needed time and patience.
Asked about plans for his new cabinet, he said it would include all shades of opinion and would not be restricted to any party.
He joked that this was why he had chosen a "key" as his campaign logo, rather than a "sickle" to cut his rivals out.
Syrian crisis
When asked about Iran's support for Syrian President Bashar al-Assad's government, Mr Rouhani decided to take a more moderate stance, saying the Syrian crisis should be solved by the Syrian people.
Tehran is believed to be one of the key suppliers of arms to the Assad regime.
Mr Rouhani denounced "terrorism, civil war and any form of foreign interference in Syria" and said he hoped what Syrian people wanted would happen.