Morsi gives Egypt governorships to Islamist allies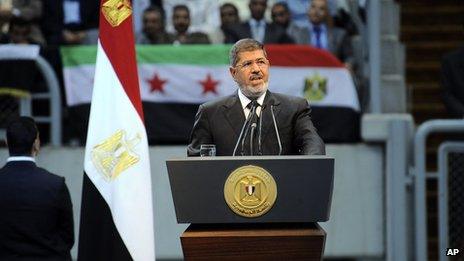 Egypt's President Mohammed Morsi has appointed a number of Islamist allies as regional governors.
The move strengthens what many see as the Muslim Brotherhood's grip on power.
The Brotherhood and its allies now control 13 of Egypt's 27 governorships.
The most significant appointment is for the tourist hotspot of Luxor, where the new governor comes from a party set up by an extremist group that carried out deadly attacks on foreigners in the 1990s.
Adel al-Khayat is a member of the political wing of Gamaa Islamiya, which claimed responsibility for the 1997 Luxor massacre in which around 60 tourists were killed.
The group subsequently renounced violence.
An office of the Brotherhood's political party in Al-Daqahliyah, north of Cairo, has reportedly been set on fire in protest against the appointments.
Mohammed Morsi was sworn into office as Egypt's first democratically elected president almost a year ago. He was the chairman of the Freedom and Justice Party, the political wing of the Muslim Brotherhood.
The Islamist movement was banned in Egypt for decades, but has enjoyed electoral success since Hosni Mubarak was forced to resign the presidency in February 2011.
Opponents accuse the Muslim Brotherhood of trying to dominate power at every level in Egypt, and the anniversary of President Morsi's inauguration is expected to trigger demonstrations.