BBC condemns Iran over 'harassment' ahead of elections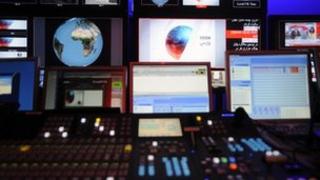 The BBC has condemned "unprecedented levels of intimidation" of BBC employees' families by Iran ahead of Friday's presidential elections.
It said Iran had warned the families of 15 BBC Persian Service staff that their relatives must stop working for the BBC in London, and in some cases the lives of staff were threatened.
The family members themselves had been threatened that they may lose jobs and be barred from travelling abroad.
Iran has so far made no comment.
'Resilience'
In a statement on Thursday, Liliane Landor, head of languages services at the BBC World Service, said that "in the past few days alone 15 family members have been questioned by the Iranian intelligence ministry in Tehran and other cities across the country".
"The harassment has included threats that relatives will lose jobs and pensions and be prevented from travelling abroad," she said.
She added that "for the first time the lives of BBC Persian TV staff living in the UK have also also been threatened".
Despite the pressure, the head of BBC Persian, Sadeq Saba, said the service would remain "an independent and alternative source of news for the people of Iran".
The BBC also stated that its audiences in Iran had almost doubled to 11.8m, saying "this recognition by ordinary Iranians is a tribute to the professionalism and resilience" of BBC journalists.
'Enemies and aggressors'
The BBC's criticism comes as millions of Iranians are preparing to vote in the Friday poll.
Six candidates are vying for the job, with momentum recently building around moderate cleric Hassan Rouhani.
But he faces a tough challenge from hardline candidates like top nuclear negotiator Saeed Jalili and Tehran mayor Mohammad Baqer Qalibaf.
The election will decide a successor to incumbent Mahmoud Ahmadinejad, who is not eligible for a third term.
His eight years in power have been characterised by economic turmoil and Western sanctions against Iran over its controversial nuclear programme.
Iran's Supreme Leader Ayatollah Ali Khamenei has called on all Iranians to vote.
"Whoever is elected, if he enjoys a strong and overwhelming vote, he will be able to stand up against enemies and aggressors more properly," Ayatollah Khamenei's website quoted him as saying.
The surge of support for Mr Rouhani came after Mohammad Reza Aref, the only reformist candidate in the race, announced on Tuesday that he was withdrawing his candidature on the advice of the pro-reform ex-president Mohammad Khatami.
Mr Rouhani now has the endorsement of two ex-presidents, Mr Khatami and Akbar Hashemi Rafsanjani.
Most of the other remaining candidates in the poll are conservatives close to Ayatollah Khamenei.
Friday's election is the first since 2009, when protesters took to the streets in anger at the results which they said had been rigged in favour of Mr Ahmadinejad.
The opposition says more than 80 of its supporters were killed in a crackdown over the following six months, a figure the government disputes.