Tehran crowds revel in last day of election campaign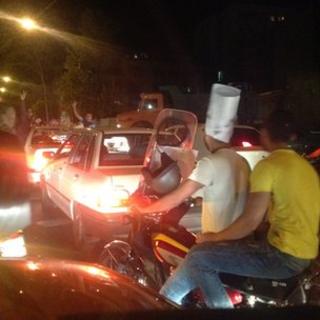 I did not think that heading out onto the streets of Tehran to witness the culmination of election campaigning would take me five hours.
Big crowds - the supporters of all six candidates - were everywhere. Many passionate young people were cheering, having covered themselves in the posters of their favoured politicians.
Vali-e-Asr, the longest tree-lined street in Iran, was flooded with cars, their windscreen wipers dancing.
There were people wearing hats made out of political posters, hanging out of car windows and chanting while simultaneously holding conversations with others caught in the traffic, making jokes about their rivals.
"We have to seize the moment. This is our right, our chance to change the government for the better," said a young girl in a purple scarf, leading a group of other girls waving posters of Hassan Rowhani.
A 20-year-old boy with half of his body out of the sun-roof of a black Mercedes was holding a long paper key - symbol of Mr Rowhani's campaign, indicating that he holds the key to solving the country's problems.
"We have waited four years. Do not miss this, compatriots," he shouted.
In the campaign itself, Hassan Rowhani seems to have moved to the forefront, after another reformist candidate, Mohammad Reza Aref, pulled out on Tuesday.
The conservatives are still fielding several competing candidates.
Music everywhere
Mr Rowhani gained key endorsements from two former presidents, both popular among reformists - Akbar Hashemi Rafsanjani and Mohammad Khatami.
Hasan Khomeini, grandson of Ayatollah Ruhollah Khomeini, founder of the Islamic republic, also supports Mr Rowhani.
On the streets, there was music everywhere, and everywhere you looked there were police.
People were happily showing the V-sign for victory to each other and to the policemen standing watching the peaceful, celebrating crowds.
Sometimes, police officers laughed along with the crowd.
A group of young girls and boys wearing yellow T-shirts, the colour of Mohammad Baqer Qalibaf's campaign, were distributing sweets and ice cream in front of a luxurious fast-food restaurant in the north of Tehran.
They too showed V-signs to another group, busy chanting slogans for Mr Rowhani and against Mr Qalibaf.
Mohammad Baqer Qalibaf, the mayor of Tehran, is the apparent front-runner among the conservative candidates.
"Qalibaf has proved his efficiency. He was a commander during the [Iran-Iraq] war and he has changed the face of this city in the past eight years. We need a new figure as our president," said Pedram Safapour, a 25-year-old student.
Mr Qalibaf joins former foreign minister Ali Akbar Velayati and former chief of the Revolutionary Guard Mohsen Rezaei, in the race.
Top nuclear negotiator Saeed Jalili is the most hard-line candidate for the presidency.
The election is to choose a successor to Mahmoud Ahmadinejad, who can not run for a third term in office.
Official campaigning ended 24 hours before the polls are due to open early on Friday.
But people remained on the streets until midnight, celebrating their own electoral festival, making the end of their week as political as possible.